Episode 68: New Product Announcement
Aug 01,2023

In this month's Healthy You podcast, Michael Ellison and Dr. Paul Bernitt introduce a brand-new adaptogenic supplement that's clinically shown to reduce perceived stress by as much as 72%. Tune in to discover what makes the clinically validated results of TriVita's Ashwagandha KSM-66® formula more reliable than the "fairy dusting" claims of other companies' ashwagandha products.
About Michael R. Ellison, TriVita Founder & CEO
Michael Ellison has a mission to help people everywhere experience whole-person wellness. For him, this mission became crystal clear when he suffered a health crisis at the age of 50.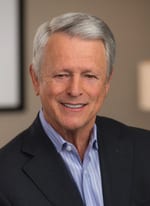 As Michael recovered and found his way back to health, he became determined to share his message of wellness with others. This led to his founding of TriVita in 1999, where he now leads the company's ongoing pursuit of bringing health and wellness to the world.
Helping people experience greater wellness and mitigate the unwanted, unnecessary lifestyle-related diseases continue to be Michael's purpose… and he brings this passion to the table in the day-to-day operations at TriVita.