WeCare
Welcome to WeCARE – An Emotional & Spiritual Helpline When You Need a Friend
From time to time, we all need someone we can talk to who will listen, pray, and provide Christian-based guidance and support to help ease your pain or concerns. WeCARE is a complementary and confidential helpline purposed to help you get through difficult times.
Our aim is to provide you with the love, peace, and comfort that promotes the process of healing and recovery of the things that are causing your distress. As a Premier Member, this free and complimentary service is here for you because we truly care!
Where We Can Help You
What to Expect During Your Appointment
When you book an appointment with WeCare, you will be greeted by a warm and caring staff member trained in active listening that will provide prayer and emotional support. They will ask how you are doing today and explore with you the thoughts and feelings you are having tied to what is going on in your life at the present time. He or she will also discuss with you the reason for your call and whatever challenges or difficulties you are facing. If in agreement, the staff member will follow up with you to see how you are doing and ask if they can be of further help to you.
We Believe in You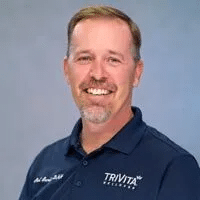 Dr. Paul Bernitt, DHH
Director of Wellness Services at TriVita
Board Certified Doctor of Holistic Health
Paul Bernitt is a Board-Certified Doctor of Holistic Health by the American Naturopathic Medical Certification Board. He is also a Master Herbalist, a Holistic Wellness Practitioner, a Doctor of Divinity, and has a degree in Mind-Body Transformational Psychology.
Paul's mission is to end as much needless suffering as possible by helping people discover hope, health, and healing. He has helped thousands of people experience the value of optimal health and wellness so they can live their purpose with greater energy, vitality, and quality of life mentally, physically, spiritually, emotionally, and environmentally.
John 14:13-14 You can ask for anything in my name, and I will do it, so that the Son can bring glory to the Father. Yes, ask me for anything in my name, and I will do it!