Episode 67: Principles for Purpose
Jul 01,2023
Have you ever wondered about the purpose of life? Or, more specifically, your purpose in life? Maybe the path to purpose isn't what you thought it was.

What if purpose isn't something you seek and find? What if, instead of treating purpose like a mystery to be solved, we recognized it as a set of principles to be applied in every aspect of our lives?
In this month's Healthy You podcast, Michael Ellison shares his vision of purpose, and it's probably not what you think. Plus, you'll hear four principles for applying purpose to everything in your life, from the serious to the frivolous. (And, you may find that those lighthearted moments aren't frivolous after all.)
Join Michael now as he shares his "Principles for Purpose," and discover how to live a happier, more fulfilled life with purpose in everything you do.
About Michael R. Ellison, TriVita Founder & CEO
Michael Ellison has a mission to help people everywhere experience whole-person wellness. For him, this mission became crystal clear when he suffered a health crisis at the age of 50.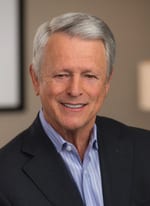 As Michael recovered and found his way back to health, he became determined to share his message of wellness with others. This led to his founding of TriVita in 1999, where he now leads the company's ongoing pursuit of bringing health and wellness to the world.
Helping people experience greater wellness and mitigate the unwanted, unnecessary lifestyle-related diseases continue to be Michael's purpose… and he brings this passion to the table in the day-to-day operations at TriVita.