Trans-Resveratrol
Trans-resveratrol is widely reported to be beneficial to healthy living with its antioxidant, anti-inflammatory and anticarcinogenic activity. Studies show the support and protection benefits on heart, brain and immune systems.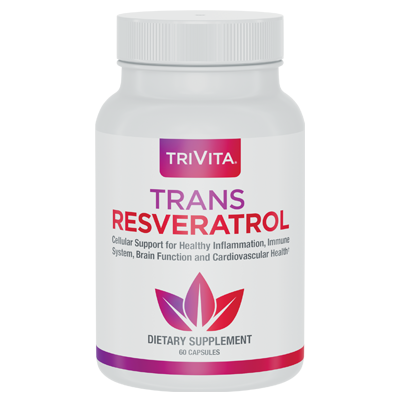 Read More
Product Information
FAQ
Reviews
References
Cardioprotective, Neuroprotective and Antiviral Benefits
Trans-Resveratrol comes in a powerful capsule, loaded with antioxidants that help provide protection to enhance overall wellness.
Studies have shown that resveratrol, with its anti-inflammatory resources, may help to support your immune system, possess anti-aging properties by delaying cellular aging, help maintain healthy cholesterol levels and may even help you lose some weight by sustaining normal blood sugar levels.
As always, when taking a new supplement, we recommend that you talk to your doctor first. With Trans-Resveratrol, if you are taking blood-thinners or have a bleeding disorder, please consult your doctor first. Also, if you have surgery scheduled within two weeks, we don't recommend using Trans-resveratrol.
If you are pregnant, nursing or on medications, you may want to consult with a healthcare provider before using. Keep out of the reach of children. To report a serious adverse event or obtain product information, contact 1-800-991-7116. Information provided herein is for informational purposes only.
View Supplement Facts Panel
These statements have not been evaluated by the Food and Drug Administration. Our products are not intended to diagnose treat, cure or prevent any disease. It is intended for your general knowledge only and is not a substitute for professional medical advice or treatment for specific medical conditions. Always seek the advice of your physician or other qualified health care provider with any questions you may have regarding a medical condition.
What's the difference between trans-resveratrol and resveratrol?
They're basically the same. Trans-resveratrol is a more bioactive form of the natural chemical and is commonly used in supplements.
How much trans-resveratrol should I take?
You should take two capsules (250 mg of trans-resveratrol), with water, every day.
Where does resveratrol come from?
Resveratrol is mostly found in the skin of red grapes but is also present in peanuts, red wine, berries and other foods. The trans-resveratrol in our product comes from the plant Japanese Knotweed, a member of the buckwheat family that can be found in 42 states in the U.S. and eight Canadian Provinces.
Is it true that there is resveratrol in red wine and dark chocolate?
Yes, but not usually enough to make a big difference in your health care journey.