Super Joint Complex
Super Joint Complex is giving you more of the beneficial joint support ingredients from the original formula so you can keep living an active life. With an improved formula, discover how the ingredients in Super Joint Complex can help reduce swelling and ease the stiffness of your joints naturally.
WHAT'S IN THE NEW FORMULA?
The new formula is a unique combination of therapeutic doses of both joint tissue building and anti-inflammatory ingredients. Glucosamine and chondroitin are found naturally in the body, but as we age these joint-building compounds begin to drop leading to a gradual breakdown of the joint tissue leading to joint pain and inflammation. Additional ingredients in the product include MSM, boswellia serrata, turmeric, quercetin and bromelain. These are anti-inflammatory, which can help the body heal faster.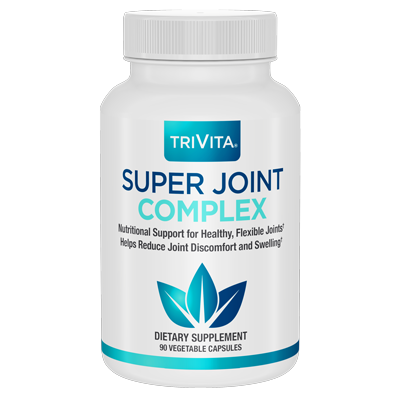 Read More
Product Information
FAQ
Reviews
References
IMPACTFUL NUTRIENTS FOR JOINT SUPPORT
Containing chondroitin sulfate, glucosamine sulfate, methylsulfonylmethane (MSM) and boswellic acid, along with powerful phytonutrients and polyphenols, here's a breakdown of the benefits of these joint health ingredients:
Chondroitin Sulfate and Glucosamine Sulfate
Clinical trials have reported a beneficial effect of chondroitin sulfate and glucosamine sulfate on pain and function.1
Chondroitin sulfate and glucosamine sulfate have been recommended for the management of knee and hip OA.1
The administration of supplements to strengthen the joint cartilage matrix have become popular for joint preservation and pain relief.1
Glucosamine has been used in many countries based on the increasing evidence of its effectiveness for OA.2
MSM and Boswellic Acid
MSM is commonly integrated with other anti-arthritic ingredients including glucosamine, chondroitin sulfate and boswellic acid.3
In vitro studies suggest MSM protects cartilage.3 It's been used in a number of combination therapies with positive results.3
MSM in combination with boswellic acid was shown to improve knee joint function.4
Studies found significant improvements in physical function where MSM was given daily to OA communities.3
If you are pregnant, nursing or on medications, you may want to consult with a healthcare provider before using. Keep out of reach of children. To report a serious adverse event or obtain product information, contact 1-800-991-7116. Information provided herein is for informational purposes only.
View Supplement Facts Panel
View Details

If you are not fully satisfied with your purchase, you will receive a full refund, less shipping and handling, within 60 days of the order date. Please call our toll-free number for complete details at 1-877-850-2968, or to receive instructions for returning products for a refund.
These statements have not been evaluated by the Food and Drug Administration. Our products are not intended to diagnose treat, cure or prevent any disease. It is intended for your general knowledge only and is not a substitute for professional medical advice or treatment for specific medical conditions. Always seek the advice of your physician or other qualified health care provider with any questions you may have regarding a medical condition.
How much Super Joint Complex should I take?
Take three (3) capsules once daily.
What's the difference between this product and the previous Joint Complex product?
We've added higher doses of the beneficial joint health ingredients from the previous formula and added the essential amino acid L-Methionine, along with a plant flavonol with antioxidant properties (Quercetin Dihydrate).
What other joint health ingredients does this product contain?
This supplement also contains turmeric and bromelain, which have demonstrated anti-inflammatory properties.5 They've also been said to have potential solutions in the treatment of acute or chronic joint discomfort.5