Super Greens Plus
Plant-based nutrition has become a popular term in the health and wellness universe as a green, natural way of living becomes favored for a variety of diets and lifestyles. Consuming ingredients that benefit all nine body systems and contain an adequate level of vitamins and antioxidants can have a lasting positive impact on the body—even as we age. These benefits can be found in one scoop a day in Super Greens Plus.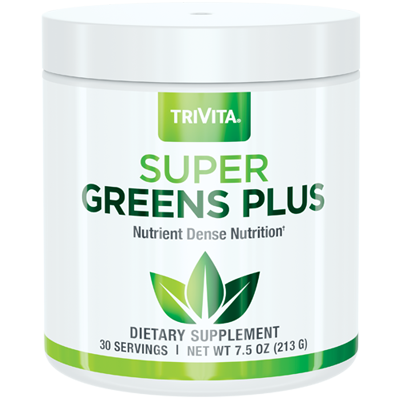 Read More
Product Information
FAQ
Reviews
References
Super Greens Plus provides:
An excellent source of vitamins and minerals
An abundance of antioxidants
Adaptogenic herbs to counteract stress in the body
Essential fatty acids (EFA)
A variety of tea blends for a metabolism boost 1,2,3
Immune-stimulating herbs 4,5
Detox support 6
Prebiotics and fiber from wholefoods
Probiotics for the digestive system
A daily veggie dose

Not only that, but Super Greens Plus is naturally flavored, paleo friendly, vegan and has no artificial colors or preservatives.

Eat well with a superfood blend of healthy nutrients—a smart choice to get on track or stay on the right path to good nutrition.

One survey found more than half of Americans were open to eating more plant-based foods, but they don't know what to buy.7 Whether you consume a complete plant-based diet, or want to adopt a healthier lifestyle by adding in products that are "more green" and high in plant-based nutrients, the natural ingredients in Supergreens Plus can benefit your body in a myriad of ways. It offers immune, digestive and detox support, while providing antioxidants and ingredients that give a metabolism boost.1,2,3
If you are pregnant, nursing or on medications, you may want to consult with a healthcare provider before using. Keep out of reach of children. To report a serious adverse event or obtain product information, contact 1-800-991-7116. Information provided herein is for informational purposes only.
View Supplement Facts Panel
View Details

If you are not fully satisfied with your purchase, you will receive a full refund, less shipping and handling, within 60 days of the order date. Please call our toll-free number for complete details at 1-877-850-2968, or to receive instructions for returning products for a refund.
These statements have not been evaluated by the Food and Drug Administration. Our products are not intended to diagnose treat, cure or prevent any disease. It is intended for your general knowledge only and is not a substitute for professional medical advice or treatment for specific medical conditions. Always seek the advice of your physician or other qualified health care provider with any questions you may have regarding a medical condition.
How much Super Greens Plus should I take?
Add one scoop with 8 oz. or more of water, juice or smoothie.
What body systems does Super Greens Plus support?
Super Greens Plus supports all nine body systems.
Does Supergreens Plus benefit the immune system?
Yes! It contains echinacea angustifolia, astragalus and reishi–ingredients known to have immune-boosting effects.8,9,10
Can the ingredients help boost your metabolism?
Yes! Ginger root, green tea, white tea, matcha green tea and black tea have all been shown to influence and boost the metabolism.1,2,3
What's the source of the antioxidants in Super Greens Plus?
Pomegranate, acai, moringa, beet root, raspberry, rose hips, pineapple, goji berry, tomatoes and more are all bountiful in antioxidants and can be found in Super Greens Plus.
What adaptogenic herbs are in Super Greens Plus?
Ashwagandha, rhodiola rosea, maca and bacopa monnieri.