HCY Guard®
When you have too much Homocysteine (HCY), it irritates blood vessels. This can lead to serious health issues: blocked arteries, clots and eventually a higher risk of developing heart disease and stroke.1,2
HCY Guard contains the essential amino acids Dimethylglycine, L-Lysine, L-Cysteine, DL-Methionine and Choline, along with the nutrients Inositol and CoQ-10.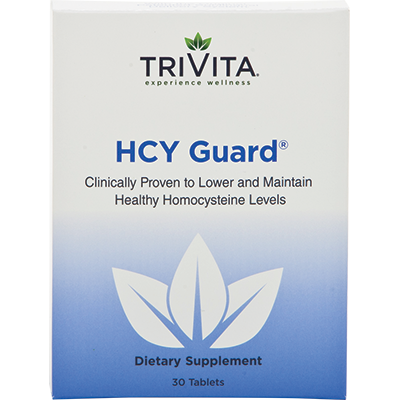 Read More
Product Information
FAQ
Reviews
References
What you need to know about homocysteine
Homocysteine (HCY) is an amino acid in the blood that's needed for normal body processes. When you have too much of it, though (a condition called "hyperhomocysteinemia"), it irritates blood vessels. This can lead to serious health issues: blocked arteries, clots and eventually a higher risk of developing heart disease and stroke.1,2
Unfortunately, this condition has no symptoms.1 That's why you should know your risk for having high blood levels of HCY, and talk with your healthcare provider about what you can do to guard your heart and your health.
Get your HCY levels checked
Maybe you don't smoke, or have high blood pressure, or any of the other well-known risk factors for heart problems. But if you or someone in your family has had heart disease, the American Heart Association suggests that you have your healthcare provider check your blood for high homocysteine.2
Exclusive blend of nutrients
When you know the potential for harm of high HCY, you'll want to know about HCY Guard. It contains a proprietary blend of seven nutrients, carefully selected and processed under the most rigorous standards. With HCY Guard, you get the essential amino acids Dimethylglycine, L-Lysine, L-Cysteine, DL-Methionine and Choline, along with the nutrients Inositol and CoQ-10.
If you are pregnant, nursing or on medications, you may want to consult with a healthcare provider before using. Keep out of reach of children. To report a serious adverse event or obtain product information, contact 1-800-991-7116. Information provided herein is for informational purposes only.
View Supplement Facts Panel
View Details

If you are not fully satisfied with your purchase, you will receive a full refund, less shipping and handling, within 60 days of the order date. Please call our toll-free number for complete details at 1-877-850-2968, or to receive instructions for returning products for a refund.
These statements have not been evaluated by the Food and Drug Administration. Our products are not intended to diagnose treat, cure or prevent any disease. It is intended for your general knowledge only and is not a substitute for professional medical advice or treatment for specific medical conditions. Always seek the advice of your physician or other qualified health care provider with any questions you may have regarding a medical condition.
What is Homocysteine, and why should I be concerned about it?
How should I take HCY Guard?
Adults and children over 10, take 1 slow dissolving tablet daily or as needed throughout the day. For best absorption do not chew or swallow whole: Let dissolve in mouth or under tongue.