Flora Complete
Contributing to good gut health are prebiotics, probiotics and enzymes. Each of these nutrients works to support the other. This helps ensure the gut is functioning properly, as gut health is linked to other aspects of health including immune health.
Flora COMPLETE helps promote a healthy gut so you can experience overall wellness.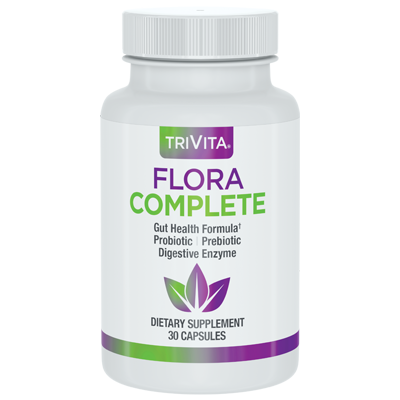 Read More
Product Information
FAQ
Reviews
References
Why Flora COMPLETE?
It contains 60 billion colony-forming units (CFU), has a digestive enzyme complex and an organic prebiotic complex.
Comes in delayed-release capsules allowing the probiotics to be delivered to the small intestine for optimal results rather than be killed off in stomach acid.
PREBIOTIC BENEFITS:
Promotes fullness which may help with weight loss.1
Improves gut barrier function, which can help protect against harmful bacteria, and host immunity.1
Reduces the inflammation and symptoms associated with inflammatory bowel issues.1
PROBIOTIC BENEFITS:
Demonstrated positive effect on gastrointestinal (GI) function.2
May help increase the body's immunity.2
Can ensure a balance between pathogens and bacteria in the gut that's important for a normal function of the body.2,3
ENZYME BENEFITS:
The three main enzymes are amylase, protease and lipase and are necessary to turn food into nutrients for the body.
Amylase breaks carbohydrates down into simple sugars for energy.4
Protease supports digestion of proteins.
Lipase supports the breakdown of fats.
It's important to consider a prebiotic, probiotic and enzyme supplement because they can help ensure your gut is getting the nutrients it needs for a balanced system. Poor gut health can be linked to issues that include sleeping troubles, unintentional weight changes and increased inflammation.5
A properly functioning gut will not only make sure foods are digested properly, but it ensures we have the living good bacteria that keeps our gut balanced to fight any bad bacteria.
If you are pregnant, nursing or on medications, you may want to consult with a healthcare provider before using. Keep out of reach of children. To report a serious adverse event or obtain product information, contact 1-800-991-7116. Information provided herein is for informational purposes only.
View Supplement Facts Panel
View Details

If you are not fully satisfied with your purchase, you will receive a full refund, less shipping and handling, within 60 days of the order date. Please call our toll-free number for complete details at 1-877-850-2968, or to receive instructions for returning products for a refund.
These statements have not been evaluated by the Food and Drug Administration. Our products are not intended to diagnose treat, cure or prevent any disease. It is intended for your general knowledge only and is not a substitute for professional medical advice or treatment for specific medical conditions. Always seek the advice of your physician or other qualified health care provider with any questions you may have regarding a medical condition.
What are colony-forming units (CFU)?
Colony-forming units refer to a unit that estimates the concentration of microorganisms. For probiotics, this means the presence of living and beneficial bacteria in a supplement.
How are gut health and the immune system linked?
About 70 percent of your immune system is in the gut. Having prebiotics, probiotics and enzymes as part of a healthy diet may help regulate the gut as they have known benefits for the body.
Slavin J. Fiber and prebiotics: mechanisms and health benefits. Nutrients. 2013 Apr 22;5(4):1417-35. doi: 10.3390/nu5041417. PMID: 23609775; PMCID: PMC3705355.
Markowiak P, Slizewska K. Effects of Probiotics, Prebiotics, and Synbiotics on Human Health. Nutrients. 2017 Sep 15;9(9):1021. doi: 10.3390/nu9091021. PMID: 28914794; PMCID: PMC5622781.
Schachtsiek M., Hammes W.P., Hertel C. Characterization of Lactobacillus coryniformis DSM 20001T surface protein CPF mediating coaggregation with and aggregation among pathogens. Appl. Environ. Microbiol. 2004;70:7078–7085. doi: 10.1128/AEM.70.12.7078-7085.2004.
Peyrot des gachons C, Breslin PA. Salivary Amylase: Digestion and Metabolic Syndrome. Curr Diab Rep. 2016;16(10):102.
Li Y, Hao Y, Fan F, Zhang B. The Role of Microbiome in Insomnia, Circadian Disturbance and Depression. Front Psychiatry. 2018 Dec 5;9:669. doi: 10.3389/fpsyt.2018.00669. PMID: 30568608; PMCID: PMC6290721.