Fiberzon Capsules
Constipation is a common problem that affects an estimated 42 million Americans.1 Amazon Herb Fiberzon Capsules contain a proprietary blend of 16 botanicals designed to support healthy regularity, including: Turkish rhubarb, Psyllium husk, Boldo , Hibiscus flower and Slippery elm bark.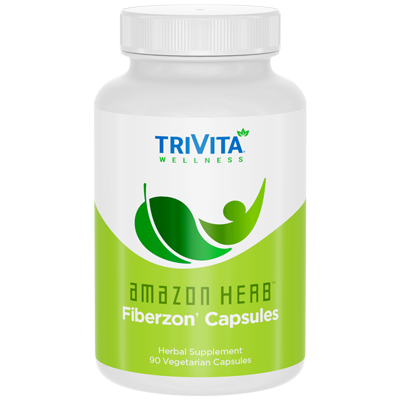 Read More
Product Information
FAQ
Reviews
References
Constipation: a common problem
One of the most common gastrointestinal problems, constipation is a condition in which you have fewer than three bowel movements per week. Long term, it can lead to health problems such as hemorrhoids, anal fissures, rectal prolapse or fecal impaction.1
Although constipation is common among all ages and populations in the U.S., some people are more likely to become constipated, including older adults, women, non-Caucasians, people with lower incomes, those who just had surgery, and people taking medications to treat depression or to relieve pain.1
A stimulating blend of Rainforest herbs
Regular bowel movements are an important part of digestion, eliminating waste from the body, which allows food that enters the body to move through the digestive tract and supply the body with nutrients.2 Amazon Herb Fiberzon Capsules contain a unique blend of botanicals designed to support healthy regularity, including:
Turkish rhubarb: Chinese herbalists have relied on rhubarb rhizomes and roots for thousands of years. They contain powerful compounds that act as stimulant laxatives.3
Psyllium husk: A soluble fiber used primarily as a gentle, bulk-forming laxative.4
Boldo: A perennial tree originating from the central regions of Chile, boldo leaves are widely used for supporting digestive health.5
Hibiscus flower: Polyphenols contained in plant foods are frequently associated with dietary fiber.6
Slippery elm bark: Contains mucilage, a substance that becomes a slick gel when mixed with water.7
Pregnant and nursing women should consult with their healthcare provider before taking Fiberzon Capsules.
If you are pregnant, nursing or on medications, you may want to consult with a healthcare provider before using. Keep out of reach of children. To report a serious adverse event or obtain product information, contact 1-800-991-7116. Information provided herein is for informational purposes only.
View Supplement Facts Panel
View Details

If you are not fully satisfied with your purchase, you will receive a full refund, less shipping and handling, within 60 days of the order date. Please call our toll-free number for complete details at 1-877-850-2968, or to receive instructions for returning products for a refund.
These statements have not been evaluated by the Food and Drug Administration. Our products are not intended to diagnose treat, cure or prevent any disease. It is intended for your general knowledge only and is not a substitute for professional medical advice or treatment for specific medical conditions. Always seek the advice of your physician or other qualified health care provider with any questions you may have regarding a medical condition.
Are Fiberzon Capsules vegetarian?
Yes. Fiberzon Capsules contain plant-based nutrients in a vegetarian capsule.
Is it safe to take Fiberzon Capsules with medications?
There are no known contraindications with Fiberzon Capsules and medications. However, Fiberzon Capsules are a dietary supplement. If you are taking any medications and have a known medical condition, it's best to consult with your healthcare provider before taking Fiberzon Capsules.
Are Fiberzon Capsules safe for everyone?
Pregnant and nursing women should consult with their healthcare provider before taking Fiberzon Capsules.
How many Fiberzon Capsules should I take each day?
Suggested use: As a dietary supplement, adults take 2 capsules daily, or as directed by a healthcare provider.