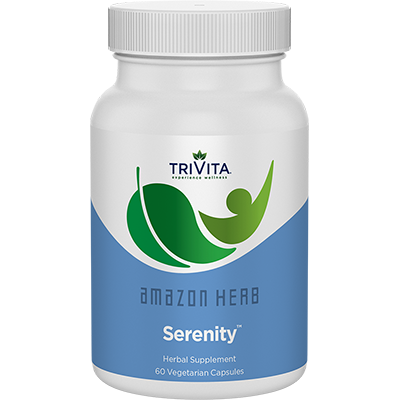 Serenity
60 Capsules2 Capsules per serving$29.99
Serenity
Your Amazon tranquility blend
Amazon Herb Serenity features a combination of Amazon Rainforest botanicals used for centuries by indigenous people to help the body adapt to stress.
Help the body adapt to stress
Americans are stressed out: about 25% report high levels of stress, and 50% report moderate stress, according to a survey commissioned by the American Psychological Association. Research suggests that prolonged stress contributes to anxiety, depression, addiction, insomnia and more.1
Read More
Amazon Herb Serenity combines calmative botanicals used for centuries by indigenous people to help the body adapt to stress, including:
Lemon balm—a calming herb used as far back as the Middle Ages for stress and anxiety and to promote sleep.2
Passionflower—historically used as a sedative; may exhibit a calming action.3
Mulungu—calmative plant sometimes called "flor de coral" (coral flower) considered for relief of occasional simple nervous tension, including occasional sleeplessness.4
Catuaba—herb used for the relief of occasional sleeplessness.5
Serenity comes in vegetarian capsules and contains no preservatives or artificial ingredients.
Product Information
If you are pregnant, nursing or on medications, you may want to consult with a healthcare provider before using. Keep out of reach of children. To report a serious adverse event or obtain product information, contact 1-800-991-7116. Information provided herein is for informational purposes only.
View Details

If you are not fully satisfied with your purchase, you will receive a full refund, less shipping and handling, within 60 days of the order date. Please call our toll-free number for complete details at 1-877-850-2968, or to receive instructions for returning products for a refund.
Frequently Asked Questions
Q: How much Serenity should I take each day?
Suggested use: Adults, take 2 capsules daily.
Q: Is Serenity vegetarian?
Yes. Serenity is a blend of Amazon botanicals in a vegetarian capsule.
Q: Is it safe to take Serenity with medications?
There are no known contraindications with Serenity and medications. However, Serenity is a dietary supplement. If you are taking any medications and have a known medical condition, it's best to consult with your healthcare provider before taking Serenity.
Q: Is Serenity safe for everyone?
Pregnant and nursing women should consult with their healthcare provider before taking Serenity.