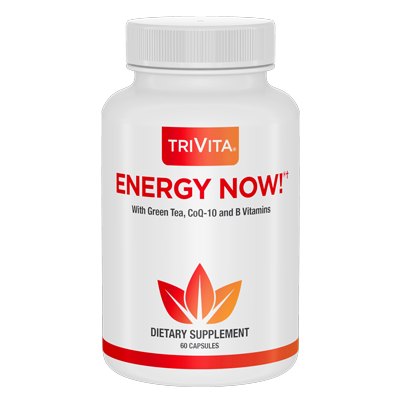 Energy Now!
60 Capsules2 Capsules per serving$24.99
Manufactured by FDA,
cGMP licensed facility.
Health Category Click on the icon for description
Do you sometimes feel like your "get up and go" just "go up and went"? Keep your batteries charged and powerful with TriVita's line of energy support supplements. Life takes vitality, stamina and focus.. Don't just get by – get in gear toward your goals, every day.

Think about it: a healthy brain and nerves are the control and communications centers for everything we do. Be smart about the vital nutrients you need to help support brain and nerve health by adding these vital nutrients to your daily schedule.
Energy Now!
Energy when you need it — anytime, anywhere
Dragging through the day?
Wish you were more alert and productive? No surprise: fatigue is a prime reason that adults visit doctors' offices.1 Your problem could be a lack of vitamins and minerals, and recharging your levels could improve fatigue symptoms.2
Fuel with natural nutrients
Energy Now! is packed with nutrients that naturally fuel your body, including:
CoQ-10 and Vitamins B-1, B-2 and B-3. Found in almost every cell in the body, CoQ-10 helps convert food into energy. The B Vitamins all help pull energy from food.3,4
Natural antioxidant polyphenols, green tea and cocoa: Both green tea and cocoa are considered allies in the fight against free radicals—unstable molecules that damage and even kill cells.5,6
Amino Acids: Help feed the body's energy production. Along with proteins, they're the building blocks of life.7
If you need more energy to keep up with life, make sure you get all the nutrients you need.
Product Information
If you have Phenylketonuria (PKU) or are taking MAO inhibitors, do not use this product.
If you are pregnant, nursing or on medications, you may want to consult with a healthcare provider before using. Keep out of reach of children. To report a serious adverse event or obtain product information, contact 1-800-991-7116. Information provided herein is for informational purposes only.
View Details

If you are not fully satisfied with your purchase, you will receive a full refund, less shipping and handling, within 60 days of the order date. Please call our toll-free number for complete details at 1-877-850-2968, or to receive instructions for returning products for a refund.
Frequently Asked Questions
Q: What's the best way to use Energy Now!?
Take 2 capsules in the morning and/or afternoon. For best results, take with a glass of juice or water on an empty stomach. This should be 30 minutes before OR 2 hours after food. Taking the product with food will significantly diminish its effectiveness.