Multi Collagen
Our bodies are highly dependent on protein. In fact, Collagen protein is the most abundant protein in the body. It is a multi-faceted component of connective tissue that supports tendons, ligaments, skin, muscles and even arteries. Collagen supplementation studies have shown several health benefits from joint pain relief to healthier skin.1,2
Support your body with our premium quality Multi Collagen supplement.
Collagen type I, II, III, V and X
Hydrolyzed peptides and protein for better absorption
Grass-fed, cage-free and wild-caught sourced
9 grams of protein
Abundant in amino acids
Gluten-free
Hormone free
Dissolves easily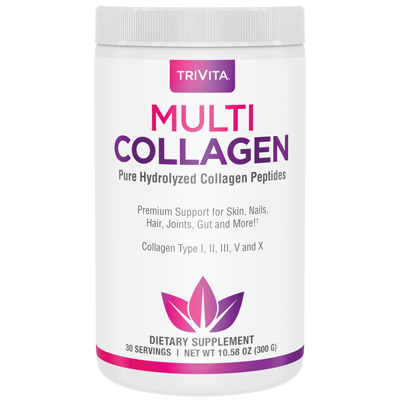 Read More
Product Information
FAQ
Reviews
References
If you are pregnant, nursing or on medications, you may want to consult with a healthcare provider before using. Keep out of reach of children. To report a serious adverse event or obtain product information, contact 1-800-991-7116. Information provided herein is for informational purposes only.
View Supplement Facts Panel
View Details

If you are not fully satisfied with your purchase, you will receive a full refund, less shipping and handling, within 60 days of the order date. Please call our toll-free number for complete details at 1-877-850-2968, or to receive instructions for returning products for a refund.
These statements have not been evaluated by the Food and Drug Administration. Our products are not intended to diagnose treat, cure or prevent any disease. It is intended for your general knowledge only and is not a substitute for professional medical advice or treatment for specific medical conditions. Always seek the advice of your physician or other qualified health care provider with any questions you may have regarding a medical condition.
What does collagen do for my body?
Collagen protein supports ligaments, tendons, muscles, joints and even cardiovascular tissues.1,2
What kinds of Collagen does Multi Collagen contain?
Multi Collagen contains all five key collagen types (Collagen type I, II, III, V and X) coming from wild caught fish, range free chicken and grass-fed bovine.
How much Multi Collagen should I take daily?
Adults 18 and over, mix one (1) scoop (10 g) of powder with 8 oz or more of water or your favorite beverage daily. May also be added to food. Do not exceed two (2) scoops daily.