VitaCal-MagD™ K2
Give your bones the nutrients they need with VitaCal-MagD™ K2, formulated with four types of calcium, Vitamin K2, Vitamin D and magnesium.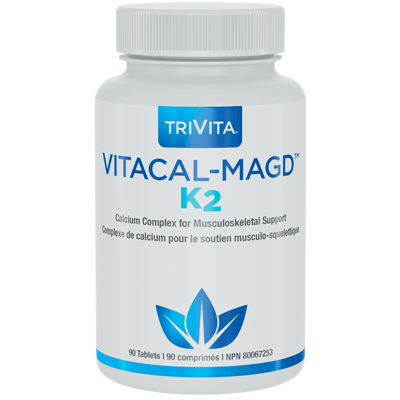 Read More
Product Information
FAQ
Reviews
References
Designed to help support overall musculoskeletal health (the systems of bones, joints and muscles that give the body form and stability).
Calcium (500 mg): VitaCal-MagD™ K2 features four types of calcium including microcrystalline hydroxyapatite (MCHC), which makes up 70% of bone.1
Vitamin K2 (40 mcg): K2 may support bone mineralization and in one 3-year study, it was associated with stronger bones and improved markers of bone health when taken at higher daily doses.2-4
Magnesium (250 mg): Magnesium plays a role in bone formation, bone mineralization and calcium transport, and regulates muscle function.5,6 It also helps convert Vitamin D to the active form in the body.
Vitamin D (12.5 mcg): The body requires Vitamin D to absorb calcium properly. Too little Vitamin D may result in soft, thin and brittle bones.7,8
The importance of calcium
Calcium plays a crucial role in maintaining strong bones, supporting their structure and function.9 Not only can it be difficult to get adequate amounts from food alone, but calcium absorption may also drop by up to 20% in adulthood—and decline even further as we grow older, just when we start needing more.10-11
Why Vitamin K2?
Vitamin K supports the normal function of proteins that remove calcium from the blood and incorporate it into the bone matrix. Vitamin K2 is the more bioavailable form of Vitamin K: it stays in the body longer, which results in higher blood levels (7-8 times higher than K1) with regular intake.2
The right calcium/magnesium balance
A critical element in bone health, magnesium is an important part of any calcium supplement. Calcium plays a role in the body's retention of magnesium,12 and in fact, high levels of calcium combined with low levels of magnesium has been shown to adversely affect heart health.13
So what's a good calcium and magnesium balance? Research suggests a 2:1 calcium to magnesium ratio,14 which is what you'll find in VitaCal-MagD™ K2.
Support bone health: make VitaCal-MagD™ K2 your go-to calcium supplement today.
If you are pregnant, nursing or on medications, you may want to consult with a healthcare provider before using. Keep out of reach of children. To report a serious adverse event or obtain product information, contact 1-800-991-7116. Information provided herein is for informational purposes only.
View Supplement Facts Panel
View Details

If you are not fully satisfied with your purchase, you will receive a full refund, less shipping and handling, within 60 days of the order date. Please call our toll-free number for complete details at 1-877-850-2968, or to receive instructions for returning products for a refund.
These statements have not been evaluated by the Food and Drug Administration. Our products are not intended to diagnose treat, cure or prevent any disease. It is intended for your general knowledge only and is not a substitute for professional medical advice or treatment for specific medical conditions. Always seek the advice of your physician or other qualified health care provider with any questions you may have regarding a medical condition.
How much VitaCal-MagD™ K2 should I take daily?
Adults, take 3 tablets once or twice daily with meals or as directed by your healthcare professional. Individual results may vary; determine your daily intake accordingly.
Is it safe to take VitaCal-MagD™ K2 with medications?
There are no known contraindications with VitaCal-MagD™ K2 and medications. However, VitaCal-MagD™ K2 is a dietary supplement. If you are taking any medications and have a known medical condition, it's best to consult with your healthcare provider before taking VitaCal-MagD™ K2.
Is VitaCal-MagD™ K2 safe for everyone?
Children, women who are pregnant or nursing, and all individuals allergic to any foods or ingredients should consult their healthcare provider before using this product. If you are taking blood thinners, consult a health care practitioner prior to use.