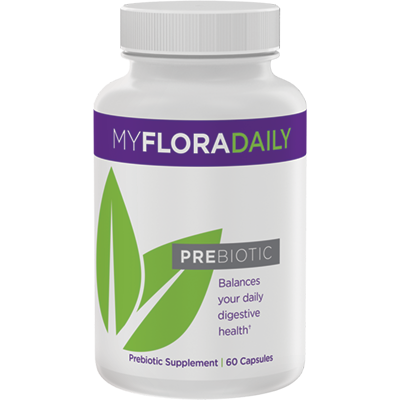 MyFloraDaily Prebiotic
60 Capsules2 Capsules per serving$19.99
Health Category Click on the icon for description
Feeling good starts inside: When we feel healthy, we look healthy. A properly functioning digestive system is key to achieving a wellness balance, which enables your body to cleanse itself and stay regular. Be your best every day, and get the digestive and detox support you need.
MyFloraDaily Prebiotic
The daily prebiotic that promotes digestive health
Perhaps no other body function is taken more for granted than the gastrointestinal (GI) tract. Yet if your digestive system is unable to properly break down food into nutrients, the rest of the body starts to go downhill in rapid succession.
While taking MyFloraDaily Probiotic helps keep your gut in good working order, you should also be supplementing your diet with high quality MyFloraDaily Prebiotic to give your gut the food it needs to feed the good bacteria that live in your stomach.
Organic, non-GMO MyFloraDaily Prebiotic consists of a combination of natural non-digestible fibers that are specifically utilized by healthy intestinal bacteria. This mixture makes MyFloraDaily Prebiotic vitally important for maintaining lower GI tract balance, good bacteria levels, a strong immune system and overall balanced digestive health. And all it takes is 2 (two) 1,250 mg. capsules a day.
MyFloraDaily Prebiotic is a gentle fiber and easily tolerated compared with other fibers. The body itself does not digest these plant fibers. Instead, it uses them to promote the growth of good bacteria in the gut. The health benefits of dietary fiber have long been appreciated, and higher intakes have been linked to less cardiovascular disease.
Other prebiotic fibers require much larger doses to show the same benefits as MyFloraDaily Prebiotic.
Read More
WHY DO I NEED A PREBIOTIC IF I'M ALREADY TAKING A PROBIOTIC?
It's easy to get prebiotics and probiotics confused, but each play a different and equally important role in promoting digestive health. The most important thing to remember is that probiotics contain live bugs (bacteria), while prebiotics contain no bugs; they simply create the ideal conditions for the gut bugs that already exist to grow and multiply. And more healthy bacteria means you digest food more efficiently.1
Product Information
If you are pregnant, nursing or on medications, you may want to consult with a healthcare provider before using. Keep out of reach of children. To report a serious adverse event or obtain product information, contact 1-800-991-7116. Information provided herein is for informational purposes only.
View Details

If you are not fully satisfied with your purchase, you will receive a full refund, less shipping and handling, within 60 days of the order date. Please call our toll-free number for complete details at 1-877-850-2968, or to receive instructions for returning products for a refund.
Frequently Asked Questions
Q: What are Prebiotics?
Prebiotics are a special form of dietary fiber that acts as a fertilizer for the good bacteria everyone already has in their gut.
Q: What are the benefits prebiotics?
Prebiotics improve the good-to-bad bacteria ratio, which has a direct correlation to your mental health and overall well-being.
Q: How should I take MyFloraDaily Prebiotic?
Adults, take 2 capsules daily.