Balanced Woman
Maintain your grace during hormonal change. Balanced Women helps gently bring a woman's hormones into balance using some of today's most popular botanicals.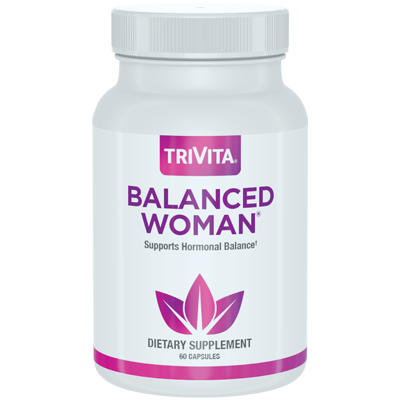 Read More
Product Information
FAQ
Reviews
References
Balanced Woman contains:
3 mg of Vitamin B-6: Women over 50 are urged to take 1.5 mg daily in the menopause years.1
Wild yam: used historically for postmenopausal symptoms.2
No added hormones
Dong quai: one of the most popular plants in Chinese medicine for women's issues.3
Black cohosh: popular in Europe for menstrual and pre-menopausal troubles.4
Chasteberry: used for thousands of years to treat breast pain, and found effective for premenstrual conditions.5
Suffering hot flashes, night sweats? It could be imbalanced hormones
Are you experiencing hot flashes, night sweats, mood swings and weight gain? If you're age 40-55, these symptoms can signal menopause.1
When menstrual periods stop, hormone levels drop. For some women, this triggers vaginal problems, loss of interest in sex, weight gain and muscle loss.1
May contain wheat, milk and soy.
View Supplement Facts Panel
View Details

If you are not fully satisfied with your purchase, you will receive a full refund, less shipping and handling, within 60 days of the order date. Please call our toll-free number for complete details at 1-877-850-2968, or to receive instructions for returning products for a refund.
These statements have not been evaluated by the Food and Drug Administration. Our products are not intended to diagnose treat, cure or prevent any disease. It is intended for your general knowledge only and is not a substitute for professional medical advice or treatment for specific medical conditions. Always seek the advice of your physician or other qualified health care provider with any questions you may have regarding a medical condition.
What are Balanced Woman capsules and why are they better than other products?
Balanced Woman capsules have a unique, all-natural formula containing a proprietary combination of vitamins, herbs and amino acids traditionally used for natural female hormone balancing.
How many Balanced Woman capsules should I take per day?
We suggest that you take two capsules per day, every day. For best results, take with juice or water one hour before or after meals. For daytime symptoms, take one hour before or after breakfast. For night-time symptoms, take one hour before or after dinner.
Are there any side effects with Balanced Woman capsules?
There are no reported side effects of taking Balanced Woman.
Who should not use Balanced Woman?
Women who are pregnant or nursing should not use Balanced Woman capsules. They are also not recommended, and alternatives should be used when possible, for women who have a history of ovarian cancer, breast cancer, uterine cancer or undiagnosed vaginal bleeding. It's not safe for women in these categories and they should consult their healthcare professional for alternative treatment options.
Women using birth control or hormone replacement therapies should consult their healthcare provider prior to taking any nutritional supplements.