K2 Complete
The heart plays a vital role in the human body as it pumps blood and oxygen to the organs to keep the body functioning. Heart disease can be a silent killer because it can strike without any warning and be fatal. The Centers for Disease Control and Prevention (CDC) reports almost half of Americans have at least one of three risk factors for heart disease: high blood pressure, high blood cholesterol and smoking.1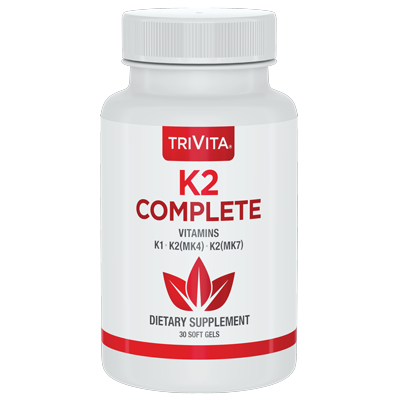 Read More
Product Information
FAQ
Reviews
References
Protecting and nourishing our hearts with heart-healthy nutrients can help us stand a better chance against cardiovascular disease. Created with vitamin K2 and K1, discover the benefits of Vitamin K2 Complete, a softgel supplement for heart health.
K2 Complete contains three forms of vitamin K: vitamin K1 as phytonadione and vitamin K2 as menaquinone-4 (MK-4) and menaquinone-7 (MK-7). Vitamin K2 and K1 are a group of fat-soluble vitamins widely researched for heart health benefits.2-6
Vitamin K deficiency can lead to calcification (mineral deposits) of vessel walls that has been associated with a higher risk of cardiovascular events. Vitamin K2 consumption may help lower the risk of vascular damage.2 It has also been found to be up to eight times more bioavailable than K1 and can remain active in the body for a longer period of time.3
Vitamin K2 is often missing in the Western diet as it is usually found in fermented foods and is not usually included in junk foods that are common in an American diet.2,3 Vitamin K1 can be found in plant-based foods such as kale, spinach and broccoli.
Please Note: If you are taking anticoagulant or antiplatelet medications, or have a bleeding disorder, consult with your healthcare provider before taking this product.
Vitamin K2 studies have shown:
If at least 32 mcg of vitamin K2 is present in the diet, then the risks for blood-vessel calcification and heart problems are significantly lowered.4
High-intake of vitamin K2 was associated with protection against cardiovascular events.5
Long-term use of MK-7 supplements improved arterial stiffness, which is related to high blood pressure and hypertension in healthy postmenopausal women.6
If you are pregnant, nursing or on medications, you may want to consult with a healthcare provider before using. Keep out of reach of children. To report a serious adverse event or obtain product information, contact 1-800-991-7116. Information provided herein is for informational purposes only.
View Supplement Facts Panel
View Details

If you are not fully satisfied with your purchase, you will receive a full refund, less shipping and handling, within 60 days of the order date. Please call our toll-free number for complete details at 1-877-850-2968, or to receive instructions for returning products for a refund.
These statements have not been evaluated by the Food and Drug Administration. Our products are not intended to diagnose treat, cure or prevent any disease. It is intended for your general knowledge only and is not a substitute for professional medical advice or treatment for specific medical conditions. Always seek the advice of your physician or other qualified health care provider with any questions you may have regarding a medical condition.
How do I take K2 Complete?
Adults: Take one (1) soft gel daily.
Can I combine K2 Complete with my current medications?
If you are taking anticoagulant or antiplatelet medications, or have a bleeding disorder, consult with your health care provider before taking this product.
Can I get Vitamin K1 and K2 in the diet naturally?
It's been found only 10 percent of vitamin K1 is absorbed from people's diets of industrialized nations, with the exception of the Japanese diet that incorporates foods, like natto, high in vitamin K2.7,8