Vital C Pack with Orange Crystals
Our incredible Vitamin C – it's not just for colds. No matter what the calendar says, our bodies need Vitamin C to protect our health and help our immune system do its job.1
Vitamin C – a workhorse vitamin
Because Vitamin C is an antioxidant, it helps block some of the damage caused by "free radicals." These unstable molecules are formed by normal body processes, like digesting food, and also by tobacco smoke or radiation. The buildup of free radicals over time is largely responsible for the aging process.2
Helps us grow and repair tissue in all parts of the body
Forms collagen, a protein in skin, ligaments and blood vessels
Helps repair and maintain cartilage, bones and teeth2
Our bodies can't make Vitamin C, or even store it up. So it's vital to get all we need by eating lots of fruits and vegetables, and by taking supplements.1,2
Round the clock formula
With Vital C Crystal Powder for day (fast release) and Crystal Tablets for night (slower release), you get the advantage of the only Vitamin C that uses Alfred Libby's original formula. Plus, both powder and tablets are easy to digest and gentle on the stomach.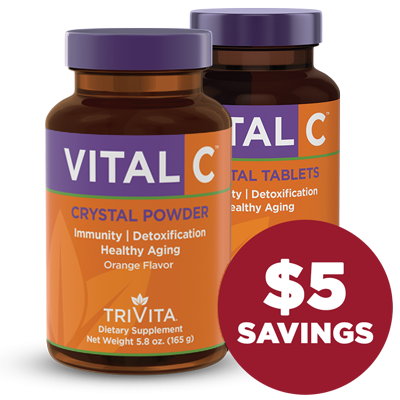 Read More
Product Information
FAQ
Reviews
References
Alfred Libby – the creator of Vital C
Alfred Libby, a renowned nutraceutical pioneer, worked with two-time Nobel Prize Laureate Linus Pauling to create the original Vitamin C formulation that is now our Vital C.
Remember the Alfred Libby name—it's a testament to the superior quality and innovative wellness supplements.
If you are pregnant, nursing or on medications, you may want to consult with a healthcare provider before using. Keep out of reach of children. To report a serious adverse event or obtain product information, contact 1-800-991-7116. Information provided herein is for informational purposes only.
View Supplement Facts Panel
View Details

If you are not fully satisfied with your purchase, you will receive a full refund, less shipping and handling, within 60 days of the order date. Please call our toll-free number for complete details at 1-877-850-2968, or to receive instructions for returning products for a refund.
These statements have not been evaluated by the Food and Drug Administration. Our products are not intended to diagnose treat, cure or prevent any disease. It is intended for your general knowledge only and is not a substitute for professional medical advice or treatment for specific medical conditions. Always seek the advice of your physician or other qualified health care provider with any questions you may have regarding a medical condition.
What is the difference between Vital C tablets and powder?
Both products use Alfred Libby's original formulation. The difference is in the form, serving size and method of consumption.
Form – One is powder, the other tablets.
Serving size – Each Vital C tablet gives you a fixed serving size of 1000 mg of Vitamin C. In contrast, the powder has a single serving size of 4000 mg of Vitamin C, but you can easily take a half or quarter portion (and thereby get 2000 or 1000 mg of Vitamin C, respectively).
Method of consumption – Tablets are swallowed; the powder can be mixed with the drink of your choice.
What are the benefits of Vitamin C?
Our bodies need Vitamin C to protect our health and help our immune system do its job.1 This workhorse vitamin:
Helps us grow and repair tissue in all parts of the body
Forms collagen, a protein in skin, ligaments and blood vessels
Helps repair and maintain cartilage, bones and teeth2
Because Vitamin C is an antioxidant, it helps block some of the damage caused by "free radicals." These unstable molecules are formed by normal body processes, like digesting food, and also by tobacco smoke or radiation. The buildup of free radicals over time is largely responsible for the aging process.2
Our bodies can't make Vitamin C, or even store it up. So it's vital to get all we need by eating lots of fruits and vegetables, and by taking supplements.1,2
1 Vitamin C Fact Sheet for Consumers. Office of Dietary Supplements, National Institutes of Health. June 24, 2011. Retrieved from: http://ods.od.nih.gov/factsheets/VitaminC-QuickFacts/
2 Vitamin C. MedlinePlus. U.S. National Library of Medicine. February 18, 2013. Retrieved from: http://www.nlm.nih.gov/medlineplus/ency/article/002404.htm
Why do I need a Vitamin C supplement? Isn't it something my body makes naturally?
How much Vital C should I take and when?
Vital C Powder: Adults and children over the age of 10 should take 1/4 to 1 teaspoon of powder daily with or without food. Stir into water, fruit juice or beverage of choice.
Vital C Tablets: Adults and children over the age of 10 should take 1-2 tablets daily, with or without food.