Stress Protection Pack with Adaptuit & HCY Guard
Our Stress Protection Pack brings nutrients from two of our premier products with savings of $10 over the regular price.
Adaptuit — contains adaptogens, antioxidants and aloe vera
HCY Guard® — helps manage Homocysteine levels and protect against Vitamin B-12 deficiency.
Order your Stress Protection Pack and save.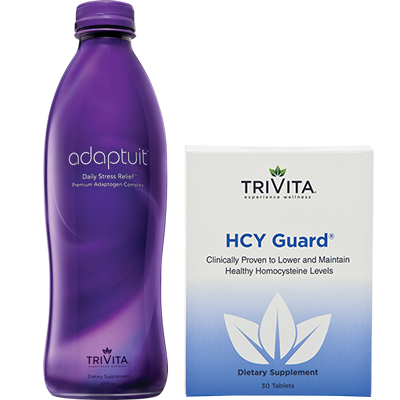 Read More
Product Information
FAQ
Reviews
References
TriVita's Stress Protection Pack: two super ways to help protect you from stress-related damage
Non-stop stress can lead to high blood pressure, heart disease, diabetes and depression. Why not do all you can to protect your peace of mind and your health? Exercise, restful sleep and eating right can help you combat stress1. Our unique Stress Protection Pack can help as well. Learn more about the Pack's individual products by clicking on the links below:
If you are pregnant, nursing or on medications, you may want to consult with a healthcare provider before using. Keep out of reach of children. To report a serious adverse event or obtain product information, contact 1-800-991-7116. Information provided herein is for informational purposes only.
View Supplement Facts Panel
View Details

If you are not fully satisfied with your purchase, you will receive a full refund, less shipping and handling, within 60 days of the order date. Please call our toll-free number for complete details at 1-877-850-2968, or to receive instructions for returning products for a refund.
These statements have not been evaluated by the Food and Drug Administration. Our products are not intended to diagnose treat, cure or prevent any disease. It is intended for your general knowledge only and is not a substitute for professional medical advice or treatment for specific medical conditions. Always seek the advice of your physician or other qualified health care provider with any questions you may have regarding a medical condition.
What does Adaptuit taste like?
You'll be surprised at how good the delicious grape flavor is! Shake well before using. For optimal taste, please refrigerate before consuming.
What are adaptogens?
Adaptogens are plants that not only increase resistance to stress, but also boost concentration, performance and endurance when we're tired.
In one study published in the journal Phytomedicine, researchers found that certain adaptogens used together can boost the stress response, and also increase tolerance to stress. The adaptogens they studied were a combination of Eleutherococcus senticocus, Schisandra chinensis and Rhodiola rosea.2
2 Panossian A., Wikman G., Kaur P., Asea A. Adaptogens exert a stress-protective effect by modulation of expression of molecular chaperones. Phytomedicine. 2009 Jun;16(6-7):617-22. doi: 10.1016/j.phymed.2008.12.003. Epub 2009 Feb 1. Abstract available at: http://www.ncbi.nlm.nih.gov/pubmed/19188053
How much should I take daily?
Drink 1 to 3 ounces daily. Drink 3 to 6 ounces when your body requires more.
Is there anyone who shouldn't take Adaptuit?
Pregnant or nursing women, anyone with injuries or diseases involving the brain or nervous system (for example chronic migraines or epilepsy), and persons recovering from surgery should check with their healthcare professional before trying Adaptuit.
Are there any drug interactions?
There are no known drug interactions, but it's a good idea to check with your healthcare professional if you're concerned.
Can vegetarians, vegans and people with yeast allergies take it?
Adaptuit contains no animal by-products and is completely plant based, so anyone with meat or wheat restrictions can take it.