VitaDaily - Once Daily
Finally! a multi-vitamin with no "bad stuff". TriVita's Once Daily multi-vitamin provides foundational nutrition your body needs—in an easy-to-swallow tablet. Just take once in the morning and get on with your day!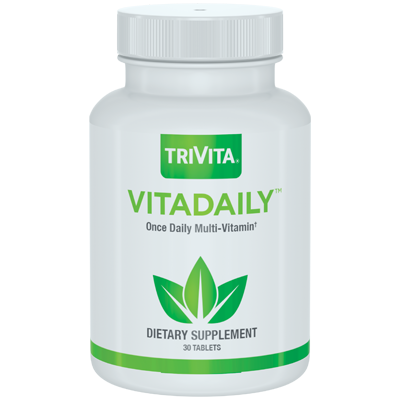 Read More
Product Information
FAQ
Reviews
References
Are you getting the daily nutrients you need?
If you're like most people, you may not be getting enough vitamins and minerals in your daily diet. That can be bad news for your health, because vitamins are essential nutrients that your body needs to grow, develop and function normally. A daily multivitamin-multimineral supplement can help fill these nutrient gaps in the diet, in turn helping protect against nutrient deficiencies.1-3
VitaDaily Once Daily Multi-Vitamin offers 24 vitamins and minerals in a convenient, once-a-day tablet. Easy to swallow, VitaDaily contains no artificial colors, flavors or preservatives.
24 vitamins and minerals
100% Daily Value (DV) of 19 vitamins and minerals
25 mcg of Vitamin D3
8% DV of calcium
A complete range of B vitamins
Vitamin A present as 50% beta-carotene
If you are pregnant, nursing or on medications, you may want to consult with a healthcare provider before using. Keep out of reach of children. To report a serious adverse event or obtain product information, contact 1-800-991-7116. Information provided herein is for informational purposes only.
View Supplement Facts Panel
View Details

If you are not fully satisfied with your purchase, you will receive a full refund, less shipping and handling, within 60 days of the order date. Please call our toll-free number for complete details at 1-877-850-2968, or to receive instructions for returning products for a refund.
These statements have not been evaluated by the Food and Drug Administration. Our products are not intended to diagnose treat, cure or prevent any disease. It is intended for your general knowledge only and is not a substitute for professional medical advice or treatment for specific medical conditions. Always seek the advice of your physician or other qualified health care provider with any questions you may have regarding a medical condition.
Why do I need a multi-vitamin?
When should I take VitaDaily?
Suggested use: Adults, take one tablet daily, preferably with food.
Is it safe to take VitaDaily with medications?
There are no known contraindications with VitaDaily and medications. However, VitaDaily is a dietary supplement. If you are taking any medications and have a known medical condition, it's best to consult with your healthcare provider before taking VitaDaily.