Nerve Formula
To keep nerves in top condition, experts say that our nervous system needs essential proteins and fatty acids, vitamins and minerals.1 Promote peak nerve performance for the active life you lead!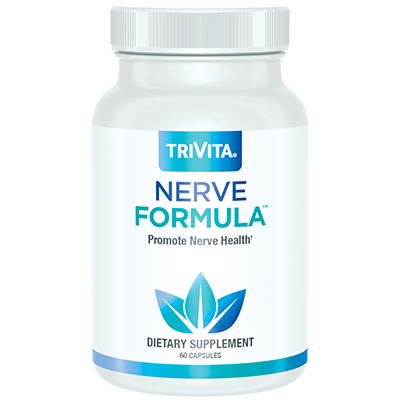 Read More
Product Information
FAQ
Reviews
References
Nerves: the "telephone wires" that keep us humming
So much depends on our nerves: they carry messages to and from our brain, alerting us to pain, pressure and temperature. They're like telephone wires for our whole body, relaying the messages that keep us going.2
Nerve Formula™ contains:
Nerve Preserve™, a proprietary blend that includes Lecithin, Alpha Lipoic Acid, Acetyl L-Carnitine and L-Taurine
An abundance of B vitamins
View Supplement Facts Panel
View Details

If you are not fully satisfied with your purchase, you will receive a full refund, less shipping and handling, within 60 days of the order date. Please call our toll-free number for complete details at 1-877-850-2968, or to receive instructions for returning products for a refund.
These statements have not been evaluated by the Food and Drug Administration. Our products are not intended to diagnose treat, cure or prevent any disease. It is intended for your general knowledge only and is not a substitute for professional medical advice or treatment for specific medical conditions. Always seek the advice of your physician or other qualified health care provider with any questions you may have regarding a medical condition.
How should I use Nerve Formula?
Adults take 1 capsule twice daily with food. For optimal results, take 2 capsules three times per day for 30 days, then 2 capsules twice per day for 30 days, then 1 capsule twice daily.