Energy Now!
Dragging through the day?
Wish you were more alert and productive? No surprise: fatigue is a prime reason that adults visit doctors' offices.1 Your problem could be a lack of vitamins and minerals, and recharging your levels could improve fatigue symptoms.2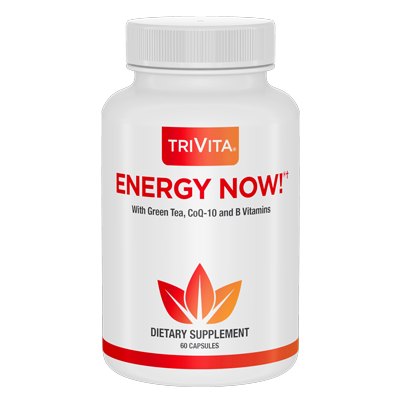 Read More
Product Information
FAQ
Reviews
References
Fuel with natural nutrients
Energy Now! is packed with nutrients that naturally fuel your body, including:
CoQ-10 and Vitamins B-1, B-2 and B-3. Found in almost every cell in the body, CoQ-10 helps convert food into energy. The B Vitamins all help pull energy from food.3,4
Natural antioxidant polyphenols, green tea and cocoa: Both green tea and cocoa are considered allies in the fight against free radicals—unstable molecules that damage and even kill cells.5,6
Amino Acids: Help feed the body's energy production. Along with proteins, they're the building blocks of life.7
If you need more energy to keep up with life, make sure you get all the nutrients you need.
If you have Phenylketonuria (PKU) or are taking MAO inhibitors, do not use this product.
If you are pregnant, nursing or on medications, you may want to consult with a healthcare provider before using. Keep out of reach of children. To report a serious adverse event or obtain product information, contact 1-800-991-7116. Information provided herein is for informational purposes only.
View Supplement Facts Panel
View Details

If you are not fully satisfied with your purchase, you will receive a full refund, less shipping and handling, within 60 days of the order date. Please call our toll-free number for complete details at 1-877-850-2968, or to receive instructions for returning products for a refund.
These statements have not been evaluated by the Food and Drug Administration. Our products are not intended to diagnose treat, cure or prevent any disease. It is intended for your general knowledge only and is not a substitute for professional medical advice or treatment for specific medical conditions. Always seek the advice of your physician or other qualified health care provider with any questions you may have regarding a medical condition.
How do I take Energy Now?
Adults: Take two (2) capsules in the morning and/or afternoon. For best results, take with a glass of juice or water on an empty stomach. This should be 30 minutes before or 2 hours after food. Taking the product with food will significantly diminish its effectiveness.
What's the best way to use Energy Now!?
Use it each day to help you power up with energy you need for the things you want to do. Here are some typical ways it's used:
Use it in the morning — it's better than caffeine to jump start your day.
If you're not a morning person, Energy Now! can help you energize quickly and keep going strong, all morning long.
Use it in the afternoon — for those after-lunch and three o'clock slumps.
If you find your energy' sinking after lunch, or in the late afternoon hours, take Energy Now! to reenergize. Its natural nutrients feed your body, which is so much better than drinking caffeine or eating high calorie, high fat or high carbohydrate snack foods.
Use it before workouts – both for greater energy and motivation.
If you want a great, pre-workout boost of energy, take Energy Now! It not only helps with the workout, but even provides extra "raring to go" motivation.

Use it before any activity — to invigorate yourself and feel better.

If you're planning to do any physical activity — whether it's gardening, taking a walk, golfing, bowling or just playing with the kids — you'll feel better and enjoy it more if you've got energy to spare, which you can get from Energy Now!