Promeric 95
Are you among the millions of Americans who suffer from joint discomfort? Now there's Promeric 95: designed to support a normal, healthy inflammatory response in relation to occasional joint discomfort.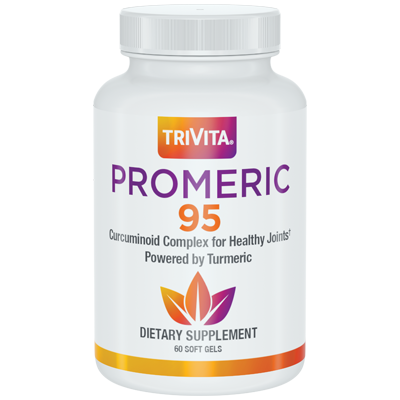 Read More
Product Information
FAQ
Reviews
References
Formulated with turmeric—a plant traditionally used as an anti-inflammatory agent.1,2
Turmeric (Curcuma longa) is a shrub related to ginger that has a history of medicinal use dating back nearly 4,000 years, and is grown throughout India, other parts of Asia and Africa. Used in traditional Ayurvedic and Chinese medicine to relieve joint discomfort, turmeric is still used as an anti-inflammatory agent in modern traditional and folk use.1-3
Modern in vitro studies have found that turmeric exhibits antioxidant and anti-inflammatory properties.1
Curcuminoid complex
Turmeric's components are called curcuminoids; turmeric plants typically contain just 2%-9% of curcuminoids.3 Promeric 95 offers 95% total curcuminoids. Each serving provides:
500 mg total curcuminoids
Small, easy-to-swallow soft gels
Non-GMO turmeric extract
No allergens
Because curcuminoids are fat soluble, Promeric 95 delivers them in a fat-soluble delivery system—soft gels—to assist with absorption.
In one study, the turmeric extract used in Promeric 95 was up to seven times more bioavailable than unformulated curcumin. Residual curcumin was detected in the blood eight hours after ingestion.4
Don't let joint discomfort sideline you: Try Promeric 95 today!
If you are pregnant, nursing or on medications, you may want to consult with a healthcare provider before using. Keep out of reach of children. To report a serious adverse event or obtain product information, contact 1-800-991-7116. Information provided herein is for informational purposes only.
View Supplement Facts Panel
View Details

If you are not fully satisfied with your purchase, you will receive a full refund, less shipping and handling, within 60 days of the order date. Please call our toll-free number for complete details at 1-877-850-2968, or to receive instructions for returning products for a refund.
These statements have not been evaluated by the Food and Drug Administration. Our products are not intended to diagnose treat, cure or prevent any disease. It is intended for your general knowledge only and is not a substitute for professional medical advice or treatment for specific medical conditions. Always seek the advice of your physician or other qualified health care provider with any questions you may have regarding a medical condition.
How much Promeric 95 should I take each day?
Adults, take two (2) soft gels, once or twice daily, or as directed by your healthcare professional.
Priyadarsini KI. Molecules, 2014; 19: 20091.
Antony B et al. Indian J Pharm Sci, 2008; 70: 445.