Immunity Pack
Keeping your immune system strong and lowering inflammation along with staying hydrated and managing stress are all key factors for good health. Our commitment to your health and wellness is our number one priority so we are offering you a special health pack to help you manage your stress, lower your inflammation and build your immune system.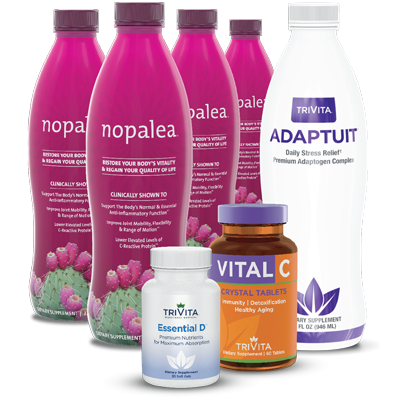 Read More
Product Information
FAQ
Reviews
References
The Immune Booster Pack includes:
1 Bottle each of Vital C Tablets & Essential D to build-up your immune system
1 Nopalea 4-Pack to help fight inflammation
1 bottle of Adaptuit to help relieve the stress
PLUS: You'll receive FREE shipping and 3,799 VitaPoints (5X) worth $37.99 you can use on a future order of any TriVita product.
*Offer available while supplies last and may be discontinued at any time. Individual product purchases do not qualify for 5X VitaPoints or free shipping unless purchased in qualifying quantities.
Vital C Tablets
Our incredible Vitamin C – it's not just for colds. No matter what the calendar says, our bodies need Vitamin C to protect our health and help our immune system do its job.1
Vitamin C - a workhorse vitamin
Because Vitamin C is an antioxidant, it helps block some of the damage caused by "free radicals." These unstable molecules are formed by normal body processes, like digesting food, and also by tobacco smoke or radiation. The buildup of free radicals over time is largely responsible for the aging process.2
Helps us grow and repair tissue in all parts of the body
Forms collagen, a protein in skin, ligaments and blood vessels
Helps repair and maintain cartilage, bones and teeth2
Our bodies can't make Vitamin C, or even store it up. So it's vital to get all we need by eating lots of fruits and vegetables, and by taking supplements.1,2
Essential D
Vitamin D is an important component of a strong immune system. According to a study referenced in the Harvard Gazette, Vitamin D supplementation can help protect against acute respiratory infections.3 Essential D is designed for easy absorption with 5,000 IU of Vitamin D3 (Cholecalciferol), a bioavailable form that matches what your body produces naturally. Don't just take a Vitamin D-absorb it with Essential D!
Help protect against Vitamin D deficiency
You may think that Vitamin D is mostly for bone health. However, recent research studies have shown a connection between lack of Vitamin D and a wide variety of serious health conditions including hypertension, osteoporosis and diabetes.1
Essential D is formulated with 5,000 IU (International Units) of Vitamin D
Convenient once-a-day formula
Contains Vitamin D3 (Cholecalciferol), the same form of Vitamin D that is created by your body
Includes olive oil to support the fat soluble nature of Vitamin D
Easy-to-swallow soft gels
Nopalea
Chronic inflammation can play a role in nearly every major disease, including heart disease, diabetes, cancer and Alzheimer's. In fact, the World Health Organization says that chronic inflammatory conditions are the greatest health threat to humans.4 Acute inflammation is normal and healthy, but lingering chronic inflammation can be damaging. So why not do everything possible to bolster your immune system and lower unchecked inflammation?
Restore Your Mobility and Quality of Life5
Nopalea is a delicious, nutrient-dense drink made with the fruit of the prickly pear cactus. It's brimming with antioxidants that support detoxification, healthy inflammation, and whole-body wellness. But it's also more than that; Nopalea is based on tradition and backed by science.
*According to the National Institutes of Health: It is important to realize that chronic inflammation is not a specific disease but a mechanistic process.
Adaptuit
Every day you contend with stress: Physical, emotional, biological and chemical demands that can drain your energy and affect your body.1 Linked to weight challenges, heart concerns, sleep issues and more, daily stress can be a key factor in determining your overall health outlook.6-7
Adaptuit is a great-tasting, grape-flavored liquid stress formula that's easy to take, every single day. It contains L-theanine, the calming compound found in green tea, but without the caffeine present in green tea. Adaptuit also delivers some of the most well-known adaptogens including Eleutherococcus senticosus extract, Schisandra chinensis extract, and Rhodiola rosea root extract.
If you are pregnant, nursing or on medications, you may want to consult with a healthcare provider before using. Keep out of reach of children. To report a serious adverse event or obtain product information, contact 1-800-991-7116. Information provided herein is for informational purposes only.
View Supplement Facts Panel
View Details

If you are not fully satisfied with your purchase, you will receive a full refund, less shipping and handling, within 60 days of the order date. Please call our toll-free number for complete details at 1-877-850-2968, or to receive instructions for returning products for a refund.
These statements have not been evaluated by the Food and Drug Administration. Our products are not intended to diagnose treat, cure or prevent any disease. It is intended for your general knowledge only and is not a substitute for professional medical advice or treatment for specific medical conditions. Always seek the advice of your physician or other qualified health care provider with any questions you may have regarding a medical condition.