Adaptuit™ 4 Pack
Non-stop stress can lead to high blood pressure, heart disease, diabetes, and depression. Why not do all you can to protect your peace of mind and your health? Exercise, restful sleep, and eating right can help you combat stress.1
Every day you contend with stress: Physical, emotional, biological and chemical demands that can drain your energy and affect your body.1 Linked to weight challenges, heart concerns, sleep issues and more, daily stress can be a key factor in determining your overall health outlook.2-3
In the 1940s, scientist Dr. Nikolai Lazarev coined the term "adaptogen" to mean an agent that raises the body's ability to resist stress by countering undesired stressors, whether physical, chemical, emotional, or biological.4 Adaptogens are herbs that help the body "adapt" to stress and occasional stress-related fatigue.
These ancient herbs, often found thriving in harsh environments, are traditionally used to sharpen mental function, boost physical endurance and restore inner balance in response to various stressors.16 The plants that have been identified as adaptogens have adapted to their harsh environments including high altitude, extreme cold, low oxygen, intense irradiation from the sun and other stressful conditions. 2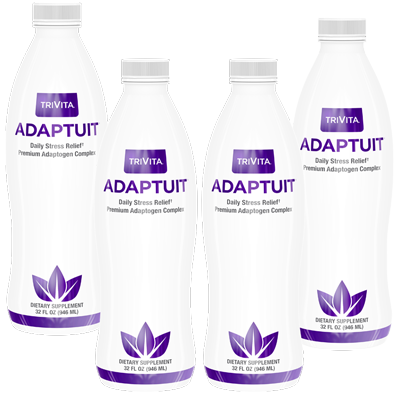 Read More
Product Information
FAQ
Reviews
References
Formulation
Adaptuit is a great-tasting, grape-flavored liquid stress formula that's easy to take, every single day. It contains L-theanine, the calming compound found in green tea, but without the caffeine present in green tea. Adaptuit also delivers some of the most well-known adaptogens including:
Eleutherococcus senticosus extract 4:1 (root) – Eleuthero is known to reduce cardiovascular responses to stress while helping with overall stress adaptation.5
Schisandra chinensis extract 10:1 (Fruit)- Vining shrub's berry used in folk health practices to increase endurance, coordination, mental sharpness and work capacity.9
Rhodiola rosea root extract 4:1 - Russia's "Golden Root" herb may help both physical and mental performance while reducing fatigue under stressful conditions.10
Eleutherococcus senticosus root is believed to have adaptogenic effects on the adrenal glands, whereas Rhodiola and Schisandra are believed to act as central nervous system adaptogens.10-15
Other ingredients
Red Grape Extract 500:1 (Vitis vinifera, whole fruit including skin and seed which contains trans-resveratrol, oligomeric proanthocyanidins, anthocyanins, polyphenols and tannins). The grapes used in the formula are harvested in the South of France, and they undergo an extraction and purification process that helps preserve the grape's characteristic polyphenolic nutrients.
Antioxidant ingredients to help protect cells against oxidative stress2-8

Blueberry Juice Powder (Vaccinium angustifolium, fruit)
Goji powder (Lycium barbarum fruit)
Manufacturing
The ingredients in Adaptuit are graded for premium purity and quality. Our adaptogen botanicals are sourced in the unprocessed plant form.
Suggested Use
Drink 1 to 3 ounces daily.
If you are pregnant, nursing or on medications, you may want to consult with a healthcare provider before using. Keep out of reach of children. To report a serious adverse event or obtain product information, contact 1-800-991-7116. Information provided herein is for informational purposes only.
View Supplement Facts Panel
View Details

If you are not fully satisfied with your purchase, you will receive a full refund, less shipping and handling, within 60 days of the order date. Please call our toll-free number for complete details at 1-877-850-2968, or to receive instructions for returning products for a refund.
These statements have not been evaluated by the Food and Drug Administration. Our products are not intended to diagnose treat, cure or prevent any disease. It is intended for your general knowledge only and is not a substitute for professional medical advice or treatment for specific medical conditions. Always seek the advice of your physician or other qualified health care provider with any questions you may have regarding a medical condition.