Healthy Heart Pack
Give your heart the protection it needs with all the ingredients for good heart health in our Healthy Heart Pack. We're committed to offering quality ingredients to each area of health, and heart health plays a huge role in our overall wellness.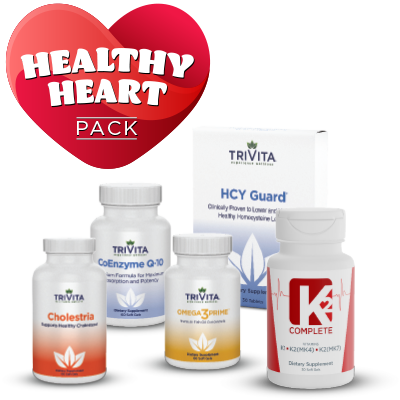 Read More
Product Information
FAQ
Reviews
References
The Healthy Heart Pack Includes:
1 bottle each of K2 Complete, Coenzyme Q-10, Omega3 Prime, Cholestria, and 1 box of HCY Guard®.
All of these nutrients contribute to heart health by offering support to blocked arteries, vascular health, healthy blood pressure, and overall cardiovascular wellness.
Also, get 3X VitaPoints*
That's $17.87 in VitaPoints toward future orders!
K2 Complete
Protecting and nourishing our hearts with heart-healthy nutrients can help us stand a better chance against cardiovascular disease. Created with vitamin K2 and K1, discover the benefits of Vitamin K2 Complete, a softgel supplement for heart health.
K2 Complete contains three forms of vitamin K: vitamin K1 as phytonadione and vitamin K2 as menaquinone-4 (MK-4) and menaquinone-7 (MK-7). Vitamin K2 and K1 are a group of fat-soluble vitamins widely researched for heart health benefits.1-5
Vitamin K2 studies have shown:
If at least 32 mcg of vitamin K2 is present in the diet, then the risks for blood-vessel calcification and heart problems are significantly lowered.3
High-intake of vitamin K2 was associated with protection against cardiovascular events.4
Long-term use of MK-7 supplements improved arterial stiffness, which is related to high blood pressure and hypertension in healthy postmenopausal women.5
Coenzyme Q-10
Support a healthy heart and more CoEnzyme Q-10 (CoQ-10) is a vitamin-like substance found in almost all of your cells, with higher concentrations in the heart, liver, kidneys and pancreas. Support multiple aspects of your cardiovascular wellness with CoQ-10!
Who should take CoQ-10?
If one or more of the statements below apply, you may be a prime candidate for CoQ-10 supplementation:
You take a statin drug 6
You are over 50
Be sure to discuss CoQ-10 supplementation with your healthcare provider.
Omega3 Prime
Premium fish oil in an easy-to-swallow soft gel Omega-3 fatty acids are essential for human health—but your body can't make them. Now, you can get the omega-3s your body needs with Omega3 Prime, designed to support heart, joint, brain and overall health.
Designed to support heart, joint, brain and overall health
Premium, purified omega-3 fish oil
Easy-to-swallow soft gels
1,000 mg of omega-3 per serving
670 mg EPA
125 mg DHA
Mercury and contaminant-free
Natural lemon flavor (no fishy taste)
Supports healthy blood pressure
Supports a healthy heart
Cholestria
Cholestria has been carefully formulated to deliver an exclusive blend of targeted nutrients:
Plant sterols: There are 1,000 milligrams of these naturally occurring substances in every soft gel. Citrus Bioflavonoid: This has been evaluated and validated as an antioxidant.
Resveratrol: Found in red wine, grapes and other plants, this substance is commonly believed to play a role in promoting heart health.
Tocopherols and Tocotrienols: Two forms of antioxidant-rich Vitamin E. Antioxidants help protect the body from free radicals—unstable molecules that can cause major cell destruction.
CoQ-10: This vitamin-like substance is found throughout the body—especially in the heart.
HCY Guard®
Guard your heart, guard your health
When you have too much Homocysteine (HCY), it irritates blood vessels. This can lead to serious health issues: blocked arteries, clots and eventually a higher risk of developing heart disease and stroke.7,8
HCY Guard contains the essential amino acids Dimethylglycine, L-Lysine, L-Cysteine, DL-Methionine and Choline, along with the nutrients Inositol and CoQ-10.
What you need to know about homocysteine
Homocysteine (HCY) is an amino acid in the blood that's needed for normal body processes. When you have too much of it, though (a condition called "hyperhomocysteinemia"), it irritates blood vessels. This can lead to serious health issues: blocked arteries, clots and eventually a higher risk of developing heart disease and stroke.7,8
Unfortunately, this condition has no symptoms.7 That's why you should know your risk for having high blood levels of HCY, and talk with your healthcare provider about what you can do to guard your heart and your health.
If you are pregnant, nursing or on medications, you may want to consult with a healthcare provider before using. Keep out of reach of children. To report a serious adverse event or obtain product information, contact 1-800-991-7116. Information provided herein is for informational purposes only.
View Supplement Facts Panel
These statements have not been evaluated by the Food and Drug Administration. Our products are not intended to diagnose treat, cure or prevent any disease. It is intended for your general knowledge only and is not a substitute for professional medical advice or treatment for specific medical conditions. Always seek the advice of your physician or other qualified health care provider with any questions you may have regarding a medical condition.