GlucoManage®
GlucoManage® contains the proprietary SugarSolver™ blend— specifically formulated with eight key ingredients, including: Gymnema sylvestre, Cinnamon, Bitter melon, American ginseng root, Banaba leaf extract, Vanadyl sulfate.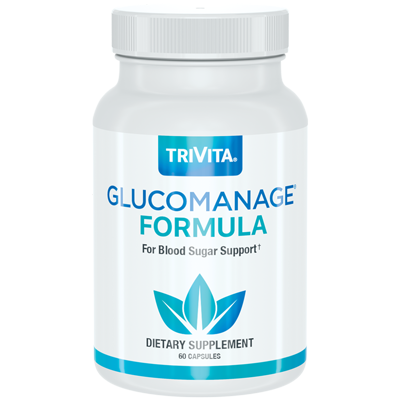 Read More
Product Information
FAQ
Reviews
References
GlucoManage is also packed with 10 fundamental vitamins and minerals, including Thiamin, Niacin, Vitamin B-12, Biotin, Zinc and Magnesium.
When you eat carbohydrates, your body converts them into glucose, a type of sugar. This raises blood glucose (also called blood sugar) levels in the blood, and provides a primary source of energy for most of the cells in your body.1 However, problems may arise if your body doesn't manage this sugar effectively (if there's too much or too little in your bloodstream).2
People with kidney failure or congestive heart failure should consult with a healthcare provider before use.
If you are pregnant, nursing or on medications, you may want to consult with a healthcare provider before using. Keep out of reach of children. To report a serious adverse event or obtain product information, contact 1-800-991-7116. Information provided herein is for informational purposes only.
View Supplement Facts Panel
View Details

If you are not fully satisfied with your purchase, you will receive a full refund, less shipping and handling, within 60 days of the order date. Please call our toll-free number for complete details at 1-877-850-2968, or to receive instructions for returning products for a refund.
These statements have not been evaluated by the Food and Drug Administration. Our products are not intended to diagnose treat, cure or prevent any disease. It is intended for your general knowledge only and is not a substitute for professional medical advice or treatment for specific medical conditions. Always seek the advice of your physician or other qualified health care provider with any questions you may have regarding a medical condition.
How should I take GlucoManage?
GlucoManage is for adults and children over 12 years old. For optimal results, take four capsules per day – two before breakfast and two before dinner for the first 30 days. Afterwards, take two capsules per day – one before breakfast and one before dinner. Also be sure to talk to your healthcare provider about any questions you may have.