Fortify™
When your immune system is strong, it's able to keep you healthy and vibrant. Fortify's unique blend of botanicals may support your body's natural defense system, promoting overall health.
Amazon Herb Fortify's select blend of botanicals, including Catuaba and Camu Camu, may support your body's natural defense system. When your immune system is strong, it's able to keep you healthy and vibrant day after day, month after month. This unique formula includes:
Jatoba—a canopy tree used to provide energy and support gastrointestinal health.1

Cat's Claw—a South American herb used among indigenous peoples of Central and South America to support the immune system.2

Camu Camu—a small tree containing fruit abundant in vitamin C.3

Alfalfa—a plant rich in vitamins, amino acids and minerals, and known for its high protein and iron content.4,5

Catuaba—an herb used to support healthy energy levels6, and to help reduce mental and physical fatigue.7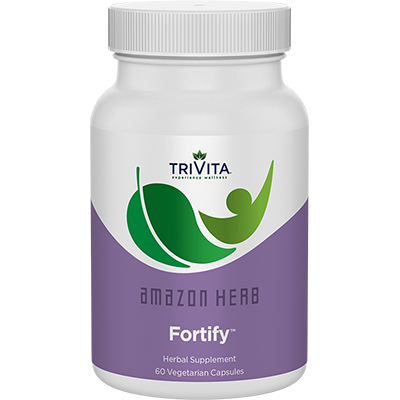 Read More
Product Information
FAQ
Reviews
References
If you are pregnant, nursing or on medications, you may want to consult with a healthcare provider before using. Keep out of reach of children. To report a serious adverse event or obtain product information, contact 1-800-991-7116. Information provided herein is for informational purposes only.
View Supplement Facts Panel
View Details

If you are not fully satisfied with your purchase, you will receive a full refund, less shipping and handling, within 60 days of the order date. Please call our toll-free number for complete details at 1-877-850-2968, or to receive instructions for returning products for a refund.
These statements have not been evaluated by the Food and Drug Administration. Our products are not intended to diagnose treat, cure or prevent any disease. It is intended for your general knowledge only and is not a substitute for professional medical advice or treatment for specific medical conditions. Always seek the advice of your physician or other qualified health care provider with any questions you may have regarding a medical condition.
How much Fortify should I take each day?
Suggested use: As a dietary supplement, adults take 2 capsules daily.


Is it safe to take Fortify with medications?
There are no known contraindications with Fortify and medications. However, Fortify is a dietary supplement. If you are taking any medications and have a known medical condition, it's best to consult with your healthcare provider before taking Fortify.
Is Fortify safe for everyone?
Pregnant and nursing women should consult with their healthcare provider before taking Fortify.