ProDigest™
Stress, eating processed foods and aging all make it hard for our digestive system to work properly.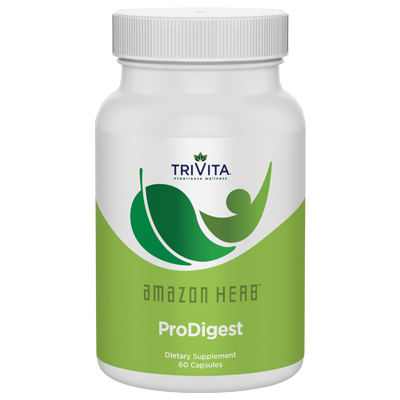 Read More
Product Information
FAQ
Reviews
References
The digestive system then becomes challenged, and bloating, gastrointestinal discomfort and indigestion may result.
ProDigest helps support the digestive system and features:
A combination of various natural plant-based enzymes from the Amazon Rainforest.
Boldo, an evergreen shrub, traditionally used in Peru to support good digestion.1
Anise, used by Amazon natives for its carminative (anti-gas) properties.2
Peppermint, used traditionally for gastrointestinal discomfort.3
Carqueja, an herb traditionally used to address indigestion, constipation and more.
Also contains digestive enzymes to assist and enhance digestion of foods.
Stress, eating processed foods and aging are some of the elements that make it hard for our digestive system to break down the foods we eat. The digestive system then becomes challenged, and bloating, gastro-intestinal discomfort and symptoms of indigestion may result.
Digestive myths4
Spicy foods alone cause heartburn.
So can many other foods. Positive lifestyle changes and losing weight are also essential to digestive health.
Colonics are safe.
Studies have not supported any long-term health benefit.
Only beans cause gas.
There are other foods that can do the same, such as dairy products and slowly absorbed carbohydrates. Some medical conditions can also increase gas and bloating.
If you are pregnant, nursing or on medications, you may want to consult with a healthcare provider before using. Keep out of reach of children. To report a serious adverse event or obtain product information, contact 1-800-991-7116. Information provided herein is for informational purposes only.
Manufactured in a facility that processes Milk, Soy, Eggs, Peanut, Sesame, Shellfish, Tree Nuts and Wheat.
View Supplement Facts Panel
View Details

If you are not fully satisfied with your purchase, you will receive a full refund, less shipping and handling, within 60 days of the order date. Please call our toll-free number for complete details at 1-877-850-2968, or to receive instructions for returning products for a refund.
These statements have not been evaluated by the Food and Drug Administration. Our products are not intended to diagnose treat, cure or prevent any disease. It is intended for your general knowledge only and is not a substitute for professional medical advice or treatment for specific medical conditions. Always seek the advice of your physician or other qualified health care provider with any questions you may have regarding a medical condition.
How much ProDigest should I take each day?
Take two (2) capsules once daily with a full glass of water or as directed by a healthcare provider.
Is it safe to take ProDigest with medications?
There are no known contraindications with ProDigest and medications. However, ProDigest is a dietary supplement. If you are taking any medications and have a known medical condition, it's best to consult with your healthcare provider before taking ProDigest.
Is ProDigest safe for everyone?
ProDigest is not recommended for pregnant and nursing women.