Bone Growth Factor
Could your bones use an enhanced support formula? It's never too late to take care of your bones. Support your body's bone remodeling with Bone Growth Factor!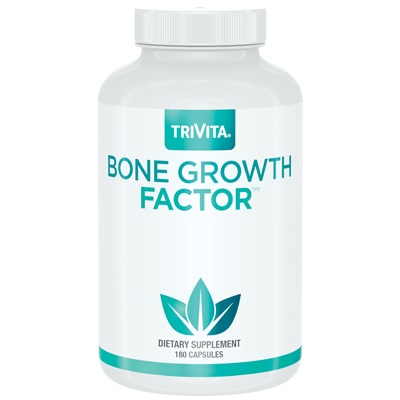 Read More
Product Information
FAQ
Reviews
References
Bone loss is a major public health threat: About 4 in 10 women and 1 in 10 men over 50 will break a hip, spine or wrist due to weak and porous bones. Each year, about 1.5 million older adults will suffer an osteoporosis-related fracture.2
A daily serving of Bone Growth Factor's advanced formula provides:
MCHC (microcrystalline hydroxyapatite, 1,500 mg)
Seven forms of calcium (1,000 mg)
Vitamin D3 (10 mcg)
All the vitamins and minerals recommended by the National Osteoporosis Foundation as important for bone health.4
Although women, Caucasians and Asians have the highest risk of osteoporosis, it is a real risk for men and women of all backgrounds. Osteoporosis is a real threat for over 40 million Americans.1
Protect your bones
Bone is living tissue that is constantly formed and broken down by your body throughout life. As children and teenagers, our bodies build more bone than they break down. However, somewhere between 18 and 25, the body begins to lose more bone than it forms; this bone loss speeds up around midlife.3
Many people don't know they have weak bones; a fracture can be the first outward sign. Testing bone density is the surest way to check for bone health.2
And although we can't control some of the risk factors for bone loss, there are many ways we can help protect our bones—beginning at any age.
Eat a balanced diet rich in calcium and Vitamin D; we need calcium and Vitamin D to help build strong bones when we're young, and to help keep our bones strong as we age. They are essential for minimizing bone loss.1
Exercise regularly; strength-building and weight-bearing exercises are best for healthy bones.4
Prevent falls by checking your home for dangers such as loose rugs and poor lighting.5
If you are pregnant, nursing or on medications, you may want to consult with a healthcare provider before using. Keep out of reach of children. To report a serious adverse event or obtain product information, contact 1-800-991-7116. Information provided herein is for informational purposes only.
View Supplement Facts Panel
View Details

If you are not fully satisfied with your purchase, you will receive a full refund, less shipping and handling, within 60 days of the order date. Please call our toll-free number for complete details at 1-877-850-2968, or to receive instructions for returning products for a refund.
These statements have not been evaluated by the Food and Drug Administration. Our products are not intended to diagnose treat, cure or prevent any disease. It is intended for your general knowledge only and is not a substitute for professional medical advice or treatment for specific medical conditions. Always seek the advice of your physician or other qualified health care provider with any questions you may have regarding a medical condition.
What is in Bone Growth Factor's proprietary blend?
Bone Growth Factor is an exclusive blend of nutrients that helps the minerals and vitamins including Evening Primrose, Ipriflavone, GABA, Inositol, Silica, Boron, Choline and 5-methoxy-N-acetyltryptamine (melatonin).
What kind of calcium is in TriVita Bone Growth Factor?
TriVita uses a seven calcium blend, including microcrystalline hydroxyapatite (MCHC). The other 6 calcium in our blend are carbonate, phosphate, citrate, lactate, orotate and d-glucarate.
How much and when should I take TriVita Bone Growth Factor?
We suggest that adults take two capsules three times daily with meals.
Are there foods or medications that I should avoid taking with TriVita Bone Growth Factor?
People taking diazide loop diuretics, calcium channel blockers or blood thinners should speak with their health care provider before taking any supplement containing calcium.
Can vegetarians and vegans take it?
TriVita Bone Growth Factor contains non-vegetarian forms of calcium.
Is this product safe for diabetics and pregnant or nursing women?
If you are on medications or are being treated for a condition, always consult your health care provider before taking a new supplement.
All customer testimonies are from dedicated users of TriVita products. Some customer may benefit by receiving consideration or compensation for their relationship with TriVita.