Ashwagandha KSM-66®
Reduce stress, sleep better and recover faster
Studies have shown that Ashwagandha KSM-66 helps balance cortisol levels, which may reduce anxiety, promote a greater sense of calmness and enhance overall resilience to stressors.1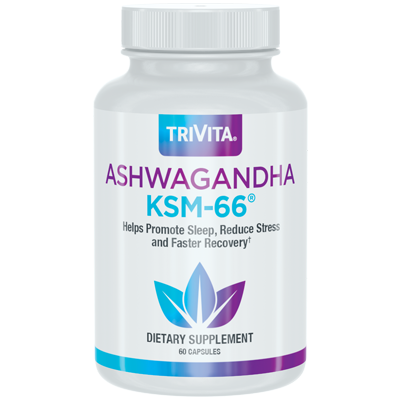 Read More
Product Information
FAQ
Reviews
References
Our days are filled with things that cause us to feel stressed, from work deadlines to relationship difficulties to health worries. Chronic stress causes our bodies to release too much of the stress hormone cortisol, which can lead to health problems such as anxiety, digestive trouble, sleep problems and memory impairment.2
Plus, this amazing herb does more than just make you feel better. It has real potential to make you truly healthier.
Based on clinical studies using our recommended dosage of 600mg, Ashwagandha may help improve these areas:
Stress and anxiety relief2
Memory and cognition3
Energy and stamina4
Immune system support5
Hormonal balance for women6
Cardiovascular health7
Chronic inflammation8
Sleep quality9
Muscle strength and recovery10
Anti-aging benefits11
If you are pregnant, nursing, or on any medication, specifically blood thinners, please consult with your healthcare provider before using. You should not stop taking any medication without first consulting with your healthcare provider. Keep out of the reach of children. To report a serious adverse event or obtain product information, contact 1-800-991-7116. Information provided herein is for informational purposes only.
View Supplement Facts Panel
View Details

If you are not fully satisfied with your purchase, you will receive a full refund, less shipping and handling, within 60 days of the order date. Please call our toll-free number for complete details at 1-877-850-2968, or to receive instructions for returning products for a refund.
These statements have not been evaluated by the Food and Drug Administration. Our products are not intended to diagnose treat, cure or prevent any disease. It is intended for your general knowledge only and is not a substitute for professional medical advice or treatment for specific medical conditions. Always seek the advice of your physician or other qualified health care provider with any questions you may have regarding a medical condition.
What is a "Gold Standard" clinical trial?
KSM-66 has been evaluated in 22 "Gold Standard" human clinical trials, ensuring its efficacy. It collaborates with major academic and research institutes to uphold rigorous standards. All clinical studies follow the gold standard of substantiation, using randomized, double-blind, placebo-controlled designs to ensure both efficacy and safety.
What body systems does Ashwagandha KSM-66 support?
Ashwagandha KSM-66 supports Stress Management; the Immune System; Energy, Stamina & Performance; Men's & Women's Health; and Sleep
How do I take Ashwagandha KSM-66?
Take two (2) capsules with a full glass of water.
Why is taking 600 mg of Ashwagandha KSM-66 important?
Unlike many other Ashwagandha supplements, the 600 mg serving size of TriVita's Ashwagandha KSM-66 is equal to the amount used in the clinical trials.
Where does Ashwagandha KSM-66 originate?
KSM-66 Full Spectrum Ashwagandha is a special herbal supplement with a sustainable and natural background. It all starts in organic fields in Rajasthan, India, where the Ashwagandha plants grow without synthetic chemicals. The soil is red and sandy, balanced for the plants' needs, and farmers take good care of them. When the plants are at their best, experts carefully handpick the roots to preserve their strong properties.
The producers of KSM-66 Ashwagandha prioritize sustainability, transparency, and social responsibility. They operate their own farms, understand the importance of preserving natural resources, and have established a vertically integrated supply chain to guarantee the quality of their product and support the livelihood of their farms for years to come.
What parts of the plant does Ashwagandha KSM-66 include?
Ashwagandha KSM-66 includes only the roots of the Withania somnifera plant. This makes TriVita's Ashwagandha KSM-66 formula far safer than other manufacturers that use the fruit and leaves, which may potentially contain unhealthy levels of withanolides.