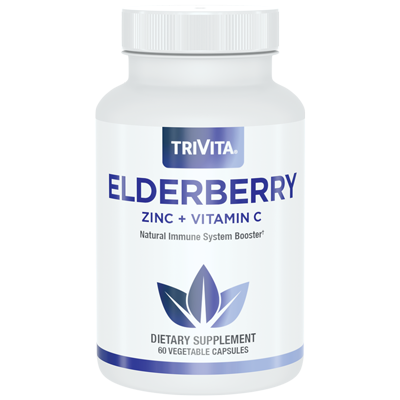 Elderberry, Zinc & Vitamin C
60 Capsules2 Capsules once daily per serving$24.99
Manufactured by FDA,
cGMP licensed facility.
Health Category Click on the icon for description
A strong body needs strong defenses. If you're a busy person who needs to stay at the top of your game, you depend on a healthy immune system. Help support your health and well-being with TriVita's quality supplements. With premium ingredients sourced from around the globe, add these unique products to your "must-have" list.
Elderberry, Zinc & Vitamin C
For a natural immune system support
The immune system has the tough job to fight off viruses, infections, colds and any other foreign invaders in the body. Our natural elderberry, zinc and vitamin C supplement is a 3-in-1 capsule that contributes to immune system health and overall well-being.
Discover the benefits of these powerhouse ingredients
Elderberry, zinc and vitamin C have all been shown to support the immune system's defense and are important players in enhancing the immune response.1,2,3,4
What do these ingredients do for immune health?
Elderberry contains potent antioxidants such as anthocyanins that are responsible for its purple hue.1 Its antioxidant and anti-inflammatory properties have been used to fight cold and flu symptoms.1
Zinc has been cited as the "gatekeeper of immune function."2 Its anti-inflammatory and antioxidant properties help regulate the immune system.2
Vitamin C is an essential nutrient that is vital to the function of white blood cells. In fact, vitamin C has been shown to prevent and treat respiratory and systemic infections.3
Read More
How do these ingredients support your immune system?
Elderberry's antioxidant properties have been found to reduce upper respiratory symptoms due to viral infections and reduce symptoms of the common cold.4
Zinc is an essential micronutrient that acts as a signal for immune cells.5 Zinc is so important that deficiency can lead to increased susceptibility to infections.5
Vitamin C is an antioxidant superstar that supports immune defense.1 It's essential to consume enough vitamin C as deficiency can impair immunity and make the body more susceptible to infections.3
Product Information
If you are pregnant, nursing or on medications, you may want to consult with a healthcare provider before using. Keep out of reach of children. To report a serious adverse event or obtain product information, contact 1-800-991-7116. Information provided herein is for informational purposes only.
View Details

If you are not fully satisfied with your purchase, you will receive a full refund, less shipping and handling, within 60 days of the order date. Please call our toll-free number for complete details at 1-877-850-2968, or to receive instructions for returning products for a refund.
Frequently Asked Questions
Q: Why take a supplement?
Unfortunately, people may not be getting enough nutrients from the standard 'western diet.'6 Supplementation helps our bodies absorb these necessary nutrients and vitamins that may be missing from our diet.
Q: How often should I take the supplement?
Suggested use is to take two capsules daily, or as otherwise directed by a healthcare provider. The vegetable capsules are convenient and easy to take everyday.
References
Tiralongo E, Wee SS, Lea RA. Elderberry Supplementation Reduces Cold Duration and Symptoms in Air-Travellers: A Randomized, Double-Blind Placebo-Controlled Clinical Trial. Nutrients. 2016;8(4):182. Published 2016 Mar 24. doi:10.3390/nu8040182
Wessels I, Maywald M, Rink L. Zinc as a Gatekeeper of Immune Function. Nutrients. 2017;9(12):1286. Published 2017 Nov 25. doi:10.3390/nu9121286
Carr AC, Maggini S. Vitamin C and Immune Function. Nutrients. 2017;9(11):1211. Published 2017 Nov 3. doi:10.3390/nu9111211
Hawkins J, Baker C, Cherry L, Dunne E. Black elderberry (Sambucus nigra) supplementation effectively treats upper respiratory symptoms: A meta-analysis of randomized, controlled clinical trials. Complement Ther Med. 2019;42:361-365. doi:10.1016/j.ctim.2018.12.004
Hojyo S, Fukada T. Roles of Zinc Signaling in the Immune System. J Immunol Res. 2016;2016:6762343. doi:10.1155/2016/6762343
Statovci D, Aguilera M, MacSharry J, Melgar S. The Impact of Western Diet and Nutrients on the Microbiota and Immune Response at Mucosal Interfaces. Front Immunol. 2017;8:838. Published 2017 Jul 28. doi:10.3389/fimmu.2017.00838