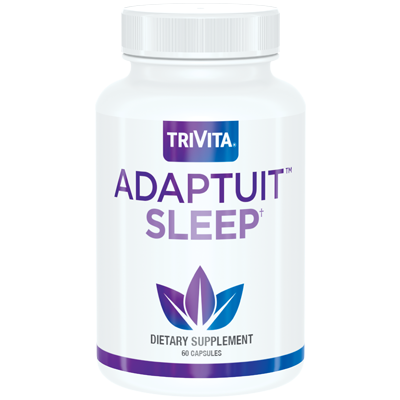 Adaptuit™ Sleep
602 capsules per serving$19.99
Manufactured by FDA,
cGMP licensed facility.
Health Category Click on the icon for description
Adequate sleep plays a major role in health and wellness. Tossing and turning or bouts of sleeplessness can keep you running on empty throughout the day. And when poor sleep habits continue, it can set your body up for long-term issues. Instead of jeopardizing your health, let TriVita's sleep support formulas help you get the rest you need.
Adaptuit™ Sleep
Don't settle for insufficient sleep
Help renew your body and mind nightly. If you're not getting restful, restorative sleep, you might need Adaptuit Sleep!
Insufficient sleep?
According to the U.S. Centers for Disease Control and Prevention, insufficient sleep may lead to grave health issues: diabetes, stroke, heart problems, depression and even obesity.2
Adaptuit Sleep is formulated with a comprehensive blend of botanical ingredients that:
Act quickly
Contain no melatonin
Read More
Unique herbal ingredients
With a fast-acting formula that's totally melatonin-free, Adaptuit Sleep offers a comprehensive blend of botanical ingredients, including:
Lemon balm. This southern European herb has been studied extensively for its sedative effect. In combination with other herbs, lemon balm has been shown to lessen anxiety and enhance sleep.3
Passionflower. Used for centuries in North and South Americas, passionflower's traditional role in promoting sleep has scientific backing: it was found in 2009 to be as effective as two drugs in reducing anxiety.4
Ashwagandha. For hundreds of years, this small evergreen shrub has been used in its native India and the Middle East to help the body cope with stress.5
We all need rejuvenating, restful sleep to feel and be our best. Take care of your sleep health, and be ready to take on the day.
Sleep Tips
Follow a sleep schedule, going to bed and waking at the same time each day
Avoid exercise within 2-3 hours before bedtime
Cut down on caffeine and nicotine all day
Avoid alcoholic drinks before bed
Keep your bedroom cool, and ban distractions (TVs, cellphones, computers)1
If sleep troubles persist, consult your healthcare professional.
Product Information
As with any sleep aid, do not take prior to driving or operating machinery.
If you are pregnant, nursing or on medications, you may want to consult with a healthcare provider before using. Keep out of reach of children. To report a serious adverse event or obtain product information, contact 1-800-991-7116. Information provided herein is for informational purposes only.
View Details

If you are not fully satisfied with your purchase, you will receive a full refund, less shipping and handling, within 60 days of the order date. Please call our toll-free number for complete details at 1-877-850-2968, or to receive instructions for returning products for a refund.
Frequently Asked Questions
Q: How much Adaptuit Sleep do I need to take to get a full night's sleep?
We suggest that adults take two capsules 30 minutes before bedtime or as recommended by a health care provider. You can vary the daily dosage as needed but should continue taking it each day until a normal sleep pattern is established. Then you can take as needed.
As with any sleep aid, do not take prior to driving or operating machinery.
Q: Does Adaptuit Sleep contain melatonin?
No, Adaptuit Sleep is 100% melatonin-free.