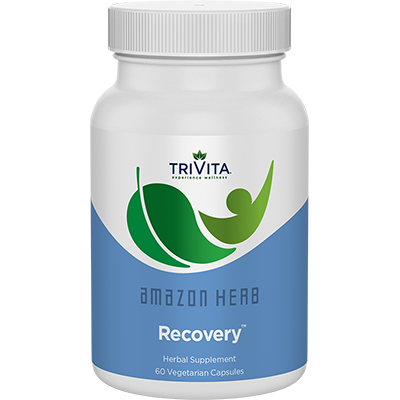 Recovery™
60 Capsules2 Capsules per serving$29.99
Health Category Click on the icon for description
Do you sometimes feel like your "get up and go" just "go up and went"? Keep your batteries charged and powerful with TriVita's line of energy support supplements. Life takes vitality, stamina and focus.. Don't just get by – get in gear toward your goals, every day.
Recovery™
Invigorate your body
Excellent after exercise or physical exertion, Amazon Herb Recovery features a proprietary blend of botanicals that may promote general health and well-being.
Recovery from the Amazon
Supplementing with an herbal tonic featuring natural ingredients can effectively boost your overall health. Recovery is formulated with a specially selected assortment of plants with antioxidant, flavonoid and linolenic acid content that may promote general health and well-being:
Dong Quai—Chinese herb used to stimulate blood flow and lymphatic circulation1

Una de Gato—woody vine native to the Amazon rainforest, a rich source of alkaloids2

Sarsaparilla—has been used in South America and Europe as a tonic for overall health and well-being3

Pomelo—native to Southeast Asia, this fruit is known for its antioxidant and lipid reduction properties4

Safflower—plant used for its linolenic and linoleic acids content5
Product Information
If you are pregnant, nursing or on medications, you may want to consult with a healthcare provider before using. Keep out of reach of children. To report a serious adverse event or obtain product information, contact 1-800-991-7116. Information provided herein is for informational purposes only.
View Details

If you are not fully satisfied with your purchase, you will receive a full refund, less shipping and handling, within 60 days of the order date. Please call our toll-free number for complete details at 1-877-850-2968, or to receive instructions for returning products for a refund.
Frequently Asked Questions
Q: How much Recovery should I take each day?
Suggested use: Adults, take 2 capsules daily.
Q: Is Recovery vegetarian?
Yes. Recovery is a blend of Amazon botanicals in a vegetarian capsule.
Q: Is it safe to take Recovery with medications?
There are no known contraindications with Recovery and medications. However, Recovery is a dietary supplement. If you are taking any medications and have a known medical condition, it's best to consult with your healthcare provider before taking Recovery.
Q: Is Recovery safe for everyone?
Pregnant and nursing women should consult with their healthcare provider before taking Recovery.