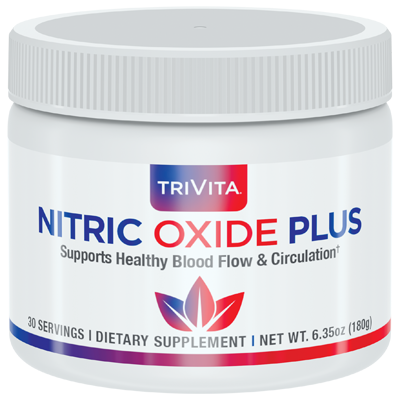 Nitric Oxide Plus Supplement
6.35 oz1 heaping scoop per serving$39.99
Manufactured by FDA,
cGMP licensed facility.
Health Category Click on the icon for description
Help guard your heart, and you'll guard your health. The heart keeps blood pumping throughout the body, so it's important to keep this remarkable organ strong and the blood vessels clear. Help your heart keep the beat: eat right, enjoy exercise, don't smoke and consider these essential nutrients from TriVita.

Think about it: a healthy brain and nerves are the control and communications centers for everything we do. Be smart about the vital nutrients you need to help support brain and nerve health by adding these vital nutrients to your daily schedule.
Nitric Oxide Plus Supplement
The miracle molecule for healthy blood flow, circulation and improved energy
Think of nitric oxide as a messenger. It's an essential messenger molecule that serves important vascular, as well as metabolic functions.1 It allows for blood, nutrients and oxygen to travel throughout the body effectively and efficiently. Nitric Oxide Plus Supplement comes in a powder. You mix one scoop in 8 oz. of water or your favorite beverage.
Energy, Blood Pressure and Cognitive Benefits
This is important because as we age, nitric oxide production decreases. We may feel this through lack of energy, high blood pressure and even cognitive decline. One study found that by age 70, most people will only produce 75% of nitric oxide compared to someone in their 20s.2 Luckily for us, supplements are an exceptional tool to help the body create nitric oxide, which can also trickle down to help other areas of health. Supplements that support nitric oxide production can typically contain Beet Root powder, L-Arginine, L-Citrulline, Arginine Ketoglutarate, Magnesium and Horse Chestnut. These can be found in Nitric Oxide Plus.
Read More
Additionally, Alzheimer's disease has also been linked to nitric oxide decline.2 One out of every eight baby boomers will get Alzheimer's disease after they turn 65 years old; at age 85, that risk grows to one in two. This is why healthy circulation and blood flow are so important.
Product Information
As always, when taking a new supplement, we recommend that you talk to your doctor first. If you are pregnant, nursing or on medications, you may want to consult with a healthcare provider before using. Keep out of the reach of children. To report a serious adverse event or obtain product information, contact 1-800-991-7116. Information provided herein is for informational purposes only.
Frequently Asked Questions
Q: How do I take Nitric Oxide Plus?
Mix one (1) heaping scoop (6g) of powder with 8 oz of water or favorite beverage.
Q: What's the difference between nitric oxide and nitrous oxide?
When you hear of nitric oxide, you may be thinking of it as a gas. The gas form is called nitrous oxide and is sometimes referred to as "laughing gas." That's not what we're talking about here.
Q: Can Nitric Oxide Plus help me with my workouts?
Nitrates are also thought to promote endurance, and some studies suggest that endurance among athletes improved with nitrate consumption.
Q: How does nitric oxide help with blood pressure?
High blood pressure occurs when the force of your blood pushing against the walls of your arteries is consistently too high. High blood pressure can lead to other health issues, such as heart problems and kidney problems. Consuming nitrates can help blood pressure because your body converts the nitrates to nitric oxide, which then causes blood vessels to relax and dilate, resulting in lower blood pressure. Various studies have shown nitrate to help lower blood pressure by increasing the production of nitric oxide. Additionally, it has been thought people with high blood pressure have an impaired ability to produce nitric oxide.3