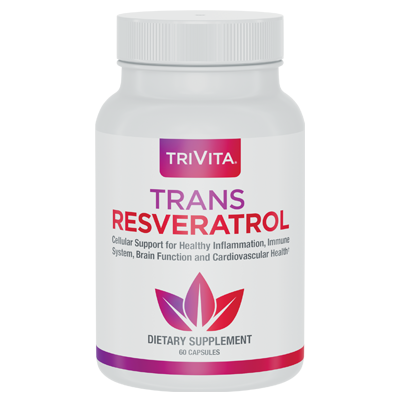 Trans-Resveratrol
60 Capsules2 Capsules per serving$29.99
Manufactured by FDA,
cGMP licensed facility.
Health Category Click on the icon for description
Help guard your heart, and you'll guard your health. The heart keeps blood pumping throughout the body, so it's important to keep this remarkable organ strong and the blood vessels clear. Help your heart keep the beat: eat right, enjoy exercise, don't smoke and consider these essential nutrients from TriVita.

Think about it: a healthy brain and nerves are the control and communications centers for everything we do. Be smart about the vital nutrients you need to help support brain and nerve health by adding these vital nutrients to your daily schedule.

A strong body needs strong defenses. If you're a busy person who needs to stay at the top of your game, you depend on a healthy immune system. Help support your health and well-being with TriVita's quality supplements. With premium ingredients sourced from around the globe, add these unique products to your "must-have" list.
Trans-Resveratrol
Support for Immune System, Heart Health and Brain Health!
Trans-resveratrol is widely reported to be beneficial to healthy living with its antioxidant, anti-inflammatory and anticarcinogenic activity. Studies show the support and protection benefits on heart, brain and immune systems.
Cardioprotective, Neuroprotective and Antiviral Benefits
Trans-Resveratrol comes in a powerful capsule, loaded with antioxidants that help provide protection to enhance overall wellness.
Read More
Studies have shown that resveratrol, with its anti-inflammatory resources, may help to support your immune system, possess anti-aging properties by delaying cellular aging, help maintain healthy cholesterol levels and may even help you lose some weight by sustaining normal blood sugar levels.
Product Information
As always, when taking a new supplement, we recommend that you talk to your doctor first. With Trans-Resveratrol, please consult your doctor first if you are taking blood thinners or have a bleeding disorder. If you have surgery scheduled within two weeks, we don't recommend using Trans-Resveratrol.
If you are pregnant, nursing or on medications, you may want to consult with a healthcare provider before using. Keep out of the reach of children. To report a serious adverse event or obtain product information, contact 1-800-991-7116. Information provided herein is for informational purposes only.
Frequently Asked Questions
Q: What's the difference between trans-resveratrol and resveratrol?
They're basically the same. Trans-resveratrol is a more bioactive form of the natural chemical and is commonly used in supplements.
Q: How much trans-resveratrol should I take?
You should take two capsules (250 mg of trans-resveratrol), with water, every day.
Q: Where does resveratrol come from?
Resveratrol is mostly found in the skin of red grapes but is also present in peanuts, red wine, berries and other foods. The trans-resveratrol in our product comes from the plant Japanese Knotweed, a member of the buckwheat family that can be found in 42 states in the U.S. and eight Canadian Provinces.
Q: Is it true that there is resveratrol in red wine and dark chocolate?
Yes, but not usually enough to make a big difference in your health care journey.