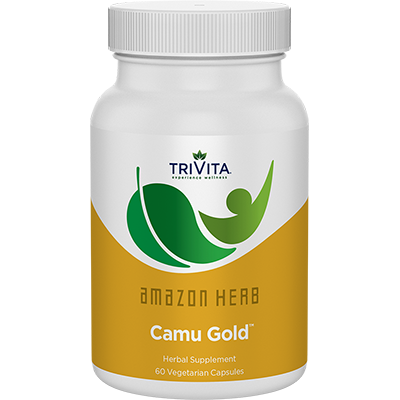 Camu Gold™
60 Capsules2 Capsules per serving$29.99
Health Category Click on the icon for description
A strong body needs strong defenses. If you're a busy person who needs to stay at the top of your game, you depend on a healthy immune system. Help support your health and well-being with TriVita's quality supplements. With premium ingredients sourced from around the globe, add these unique products to your "must-have" list.
Camu Gold™
Camu Camu: a power-packed nutritional essential
Camu Gold offers a concentrated form of pure, organic Camu Camu. Called by many in the Amazon a "feel good" fruit, the Camu Camu berry contains a wide variety of micronutrients that are essential for an energetic body and sharp mind.
Antioxidants such as those found in the Camu Camu fruit may help protect your cells against the negative effects of free radicals—unstable molecules that can cause oxidative stress, which may cause cell damage and health issues.
Read More
Camu Camu: a nutrient-rich superfruit
Many people are just now discovering the benefits of Camu Camu, a power-packed Amazon botanical. We've partnered with "Amazon John" Easterling—a renowned herbalist who has been pioneering Amazon Rainforest nutrition and wellness for over 20 years—to bring you some of the most effective Camu Camu-based products on the market.
Our Camu Camu trees are grown in the Amazon basin without using chemical fertilizers or pesticides—they are 100% organic certified. These trees are completely underwater for four months during the rainy season; as the flood waters recede, the Camu trees pull needed minerals from the soil to produce a natural density of vitamins, amino acids and other nutrients.
Choose this amazing superfruit in capsule form.
Using our Camu Camu products supports Rainforest sustainability and ACEER, the Amazon Center for Environmental Education and Research.
Product Information
If you are pregnant, nursing or on medications, you may want to consult with a healthcare provider before using. Keep out of reach of children. To report a serious adverse event or obtain product information, contact 1-800-991-7116. Information provided herein is for informational purposes only.
View Details

If you are not fully satisfied with your purchase, you will receive a full refund, less shipping and handling, within 60 days of the order date. Please call our toll-free number for complete details at 1-877-850-2968, or to receive instructions for returning products for a refund.
Frequently Asked Questions
Q: How much Camu Gold should I take each day?
Camu Gold Capsules suggested use: Adults and children over the age of 12, take 2 capsules daily.
Q: What is Camu?
Camu Gold gets its name from Camu Camu, a berry that contains a wide variety of micronutrients that are essential for an energetic body and a sharp mind. The pure, certified organic Camu Camu in Camu Gold is grown in the nutrient-rich Amazon basin.
Q: Is it safe to take Camu Gold with medications?
There are no known contraindications with Camu Gold and medications. However, Camu Gold is a dietary supplement. If you are taking any medications and have a known medical condition, it's best to consult with your healthcare provider before taking Camu Gold.
References
Camu Camu fruit may have powerful antioxidative and anti-inflammatory properties compared to Vitamin C tablets.
Camu Camu fruit has antioxidant and anti-inflammatory properties.
Inoue T, Komoda H, Uchida T, Node K. Tropical fruit camu-camu (Myrciaria dubia) has anti-oxidative and anti-inflammatory properties. J Cardiol. 2008 Oct;52(2):127-32.
In addition to Vitamin C, phenolic compounds and carotenoids, Camu Camu fruit is a good source of potassium, iron, calcium, phosphorous and amino acids such as serine, valine and leucine.
Akter S, Oh S, Eun JB, Ahmed M. Nutritional compositions and health promoting phytochemicals of camu-camu (myrciaria dubia) fruit: A review. Food Research International. 2011;44(7):1728-1732.