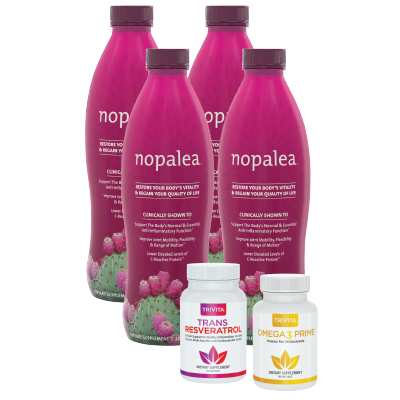 Anti-Inflammatory Starter Pack
per serving$179.97
Anti-Inflammatory Starter Pack
A trifecta of anti-inflammatory products working synergistically to help reduce chronic inflammation and keep you living with wellness.
Chronic inflammation cannot stop unless you do something to combat it! Chronic inflammatory-related diseases are the most significant cause of death in the world today. The good news is it can be managed and we want to help you get on a wellness journey that will improve your life.
Read More
NOPALEA Nopalea is a delicious, nutrient-dense supplement drink made with the fruit of the prickly pear cactus. It's brimming with antioxidants that support detoxification, healthy inflammation and whole-body wellness. Nopalea supports the normal and essential anti-inflammatory function performed by your immune system and has been shown to improve joint mobility, neck and back range of motion and flexibility.1
TRANS-RESVERATROL Trans-resveratrol is widely reported, through clinical trials, to be beneficial to healthy living and has been shown to possess antioxidant, anticarcinogenic, antitumor, and estrogenic/antiestrogenic activity.2 Resveratrol has also been shown to have cardioprotective and neuroprotective benefits3 and can be helpful in many areas of our body by expanding blood vessels so that its powerful antioxidant can get to your heart, brain and body with its protective benefits.
OMEGA3 PRIME Omega-3 fatty acids EPA and DHA are among the most important brain, joint and heart-healthy nutrients. Several studies demonstrate the anti-inflammatory properties of omega-3 fatty acids and research suggests omega-3s may help relieve joint discomfort and reduce symptoms associated with inflammation.4 Omega3 Prime fish oil is sourced from Peru's fisheries, ranked as one of the best marine ecosystems in the world.
Product Information
As always, when taking a new supplement,or if symptoms worsen, we recommend that you talk to your doctor first. If you are pregnant, nursing or on medications, you may want to consult with a healthcare practitioner before using. May cause mild gastrointestinal disturbances. Keep out of the reach of children. To report a serious adverse event or obtain product information, contact 1-800-344-8797. Information provided herein is for informational purposes only.
Frequently Asked Questions
Q: How does the Wellness Regimen help me more than just one of the products?
This trio of supplements taken together may be beneficial in slowing down inflammation and promoting a healthier life. They work together to give you triple the protection against inflammation. Consistency is key.
Q: How much Nopalea should I take?
To experience the clinical study results it's recommended to drink 3 ounces of Nopalea daily for 8 weeks and 1-3 ounces per day for maintenance
Q: How much Trans-Resveratrol should I take?
You should take two capsules (250 mg of trans-resveratrol), with water, every day.
Q: What's the suggested daily dosage for Omega3 Prime?
Adults, take 2 soft gels daily.